A Problem Has Been Detected With Your Classified Mission. Windows Has been Shut Down to Prevent Damage to Your Computer.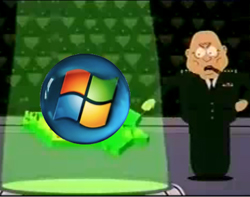 How slow are government agencies at adopting new technologies? So slow that the U.S. Army is planning a major upgrade of its information systems– to Microsoft's (MSFT) Windows Vista OS.
Though Windows 7 is expected at market by the end of the year, the United States military has set that as a deadline for its migration from Windows XP to the "worthy, but largely unexciting" Windows Vista and from Office 2003 to Office 2007.
The Army has been testing Vista since 2006 and its decision to move forward with a migration of its 744,000 desktops–on both classified and unclassified networks–was apparently driven by the OS's improved security. "First, they see real value in Windows Vista's improved security architecture," Microsoft senior director Gavriella Schuster said in a statement. "Second, it shows large organizations have unique needs and timetables for deployment. These things take time–they have been rigorously testing internally–and it makes sense that they have approached deployment in a measured and well-planned way, especially given the number of seats they are migrating to Windows Vista."