Guess That's What You Call a "Pre" Forma Loss, Eh?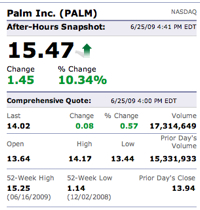 Too bad Palm launched the Pre a week after the close of its fiscal fourth quarter. If it had brought the device to market earlier, the quarterly results it posted Thursday afternoon might have been even better.
Wall Street had expected Palm (PALM) to report a loss of 62 cents a share on revenue of $80.6 million. Instead, the company reported a net loss of $105 million, or 78 cents a share. But, excluding some items, the loss came to 40 cents a share. Revenue was $86.8 million, down from the $296 million Palm posted in the year-ago quarter. Palm shipped a total of 351,000 smartphones during the quarter, a year-over-year decline of 62 percent. But this was a six percent increase over the third quarter.
"The launch of Palm webOS and Palm Pre was a major milestone in Palm's transformation; we have now officially reentered the race," Palm CEO Jon Rubinstein said in a statement. "We have more to accomplish, but the groundwork is laid for a very promising future here at Palm. Our senior management team is capable, motivated and focused on execution; there is a large group of developers waiting to build great applications for Palm webOS; and we have a new product pipeline that we think will set a standard for the industry."
Palm shares are spiking on the news. They're up more than 10 percent in after-hours trading at $15.47.
Some notes from the earnings call:
Palm is not disclosing any data on Pre sales to date….Asked about the idea of licensing webOS to other vendors, Rubinstein declined comment, but interestingly said it "isn't a religious issue" for the company.
Rubinstein on Web 3.0:
"The Pre takes better advantage of the benefits of Web 3.0 than any other mobile device available today."
Rubinstein on the Pre's launch:
"I couldn't be happier with our launch. We are exactly where we hoped we would be."
Rubinstein on supply constraints:
"The factory is ramping really well. But if demand increases, we'll have to chase it a bit."
Rubinstein on competing with Apple (AAPL) and RIM (RIMM):
"There is room for three to five players in this space. We don't have to beat one another to prosper."
Rubinstein on new carrier partners:
"As you know, we've launched with Sprint and we've announced Bell Mo up in Canada. You've heard a lot of interest out there and we are very flattered that lots of carriers are interested in Web OS and the Pre and we are obviously working on expanding our distribution but we have nothing to announce at this point in time."
Rubinstein on the webOS software development kit:
"We're eager to grant wider access to our SDK but we need to do so in a measured and methodical fashion, so we can be sure we are providing a great development experience. Over the next few weeks, we expect the program to grow from hundreds to thousands of developers and our goal from there is to make our SDK available to everyone by the end of this summer."
Rubinstein on the early market for the Pre:
"I think we're exactly where we hoped we would be. We don't have a lot of data yet, but one of the interesting things we've been seeing is a lot of enterprise interest right now."
Rubinstein on how the Pre's App Catalog can compete with rivals like the iTunes App Store:
"You'll just have to stay tuned and see how it all rolls out."