AT&T on iPhone MMS: Did We Say Summer? We Meant Autumnal Equinox.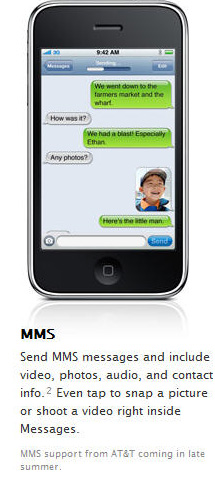 Most entry-level phones in AT&T's handset lineup have been able to send multimedia messages for years. Soon the most advanced will as well. The carrier on Thursday confirmed that it will offer MMS on Apple's (AAPL) iPhone starting Sept. 25–about two months after the handset first began supporting the feature.
Evidently, AT&T has finished "finalizing" those very important "internal system upgrades" that prevented the company from supporting the feature at the outset like virtually every other carrier, a delay that made it the laughing stock of Macworld earlier this year.
AT&T (T) had repeatedly insisted that MMS capability would be available by the end of summer. By debuting the service on Sept. 25, it's launching it three days into fall. But, whatever. At least, AT&T is launching it.
MMS will be available at no extra charge to iPhone users who already have a text-messaging subscription from AT&T and own a 3G or 3GS iPhone. It will be enabled by a software update on Sept. 25.
The official release, below:
An Update on iPhone MMS for our Mobility Customers
We know many of our iPhone customers are eager for an update on our rollout schedule for Multimedia Messaging Service (MMS). We've been working for the past several months to prepare our systems and network to ensure the best possible experience with MMS when it launches–and that launch date is: September 25 for iPhone 3G and 3GS customers. MMS will be enabled through a software update on that day.
We know that iPhone users will embrace MMS. The unique capabilities and high usage of the iPhone's multimedia capabilities required us to work on our network MMS architecture to carry the expected record volumes of MMS traffic and ensure an excellent experience from Day One. We appreciate your patience as we work toward that end.
We're riding the leading edge of smartphone growth that's resulted in an explosion of traffic over the AT&T network. Wireless use on our network has grown an average of 350 percent year-over-year for the past two years, and is projected to continue at a rapid pace in 2009 and beyond. The volume of smartphone data traffic the AT&T network is handling is unmatched in the wireless industry. We want you to know that we're working relentlessly to innovate and invest in our network to anticipate this growth in usage and to stay ahead of the anticipated growth in data demand, new devices and applications for years to come.
We thank you for your business and look forward to keeping you updated on our initiatives.