Jobs on iPhone 4: "The Most Successful Product Launch in Apple's History"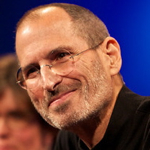 The launch of the iPhone 4 was Apple's biggest iPhone launch to date and the company's most successful product launch ever. Apple (AAPL) sold more than 1.7 million iPhone 4s in the device's first three days at market.
"This is the most successful product launch in Apple's history," CEO Steve Jobs said in a statement. "Even so, we apologize to those customers who were turned away because we did not have enough supply."
Sales of 1.7 million units in three days: That's nearly double the number sold during the launch of the 3Gs and damn close to some of the more bullish first-weekend sales estimates. Makes you wonder how many units the company might have sold had supply not been constrained and had the still missing-in-action white iPhone 4 been available for purchase at launch.
An impressive showing, particularly considering that it took Apple 72 days to sell one million of the first iPhone in 2007.
Below, the official announcement:
iPhone 4 Sales Top 1.7 Million

Apple® today announced that it has sold over 1.7 million of its iPhone® 4 through Saturday, June 26, just three days after its launch on June 24. The new iPhone 4 features FaceTime®, which makes video calling as easy as one tap, and Apple's new Retina display, the highest resolution display ever built into a phone, resulting in stunning text, images and video.

"This is the most successful product launch in Apple's history," said Steve Jobs, Apple's CEO. "Even so, we apologize to those customers who were turned away because we did not have enough supply."