Skype and Avaya Sign Enterprise Deal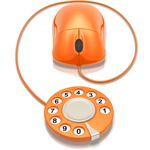 It's taken about a year, but corporate phone equipment maker Avaya and consumer VoIP carrier Skype have finally inked their long-rumored partnership.
Announced moments ago, the two-phase deal will see Avaya customers first given access to Skype Connect, the company's play at the IP-enabled PBX and Unified Communications (UC) market. Later, by the second half of 2011, the two companies will further integrate their communications platforms so that Avaya and Skype users can interact with one one another via presence, instant messaging, voice and video.
The deal will give Skype more access to the enterprise market through the sales and distributions channels of Avaya, and Skype says the integrated product will address corporate concerns about security and communication management. For Avaya, having Skype and its hundreds of millions of users is a nice way to differentiate itself from rival Cisco (CSCO).
Acting as middleman in the deal–private equity group Silver Lake Partners, which bought Avaya in 2007 for $8.2 billion and later bought a majority stake in Skype from eBay (EBAY) for $1.9 billion.
Avaya and Skype Sign Strategic Agreement for Business Communications and Collaboration Solutions

BASKING RIDGE, NJ and LUXEMBOURG–(Marketwire – September 29, 2010) – Avaya, a global leader in enterprise communications systems, software and services, and Skype today announced a strategic agreement to deliver innovative, real-time communications and collaboration solutions to businesses of all sizes. The multi-phase deal includes both go-to-market and an industry-first, joint technology integration that seeks to enable businesses to lower costs and expand how employees, customers, partners and suppliers communicate and collaborate with greater convenience and efficiency.

In the first phase of the agreement, Avaya customers in the U.S. market will have access to Skype Connect(TM), a product which adds Skype calling to IP-based enterprise communications systems, providing a Session Initiation Protocol (SIP) communications channel between Avaya communications systems and Skype. Customers with Avaya Aura(TM) Session Manager or Avaya Aura SIP Enablement Server, CS1000, Avaya IP Office, or BCM systems can use Skype Connect to place calls globally for increased reach, while aiming to save on international calling. Enterprise-level security and features such as tracking, recording, regulatory compliance, and more are provided by the Avaya system.

Skype reported 124 million average monthly connected users during the second quarter of 2010. Now, Skype users can make inbound calls to Avaya customers in the U.S. market for free or at a low cost. Calls will be treated with Avaya's routing, conferencing, messaging, mobility and contact center capabilities, as well as other collaboration services. For example, businesses can:

Establish Skype Click & Call buttons for inbound calling from Web sites
Establish Skype Online Numbers for inbound calling from landline and mobile phones
Route inbound calls from a Skype user to an enterprise extension

Avaya customers in the U.S. market who are interested in Skype Connect can speak with their Avaya sales representative or an Avaya Connect channel partner contacts beginning in October.

In the second half of 2011, Avaya and Skype plan to deliver integrated unified communications and collaboration solutions for enterprises within the U.S. The integration is intended to establish federation between Avaya Aura and Skype communications platforms and both user communities, so that an Avaya end-user and Skype user can engage and interact via presence, instant messaging, voice and video. A business, for example, could use Skype to access an Avaya-based contact center in a simple and highly integrated way to quickly and efficiently resolve customer service issues. The integrated solutions will also allow enterprise IT managers to manage and control the inter-connectivity between end users to meet their corporate IT policies.

"Avaya and Skype have been working along parallel paths to offer innovative, scalable, low cost, SIP-based communications to our respective markets," said Alan Baratz, senior vice president, Avaya and president, Avaya Global Communications Solutions. "Now, the two companies will work together, striving to improve collaboration and customer service by federating Avaya and Skype solutions for a common user experience that delivers unique benefits for businesses and their customers who are Skype users."

"Our relationship with Avaya is expected to expand the footprint for Skype Connect into more enterprises in the U.S. market, while allowing us to help Avaya's customers benefit from Skype's cost savings and access to Skype's global user base," said David Gurle, vice president and general manager of Skype for Business. "We believe our integrated solution in the second half of 2011 is expected to offer the benefits of Skype to a growing number of businesses and open up new ways for people to communicate and collaborate."