Apple Shares Down Nearly Eight Percent in Frankfurt on News of Jobs's Medical Leave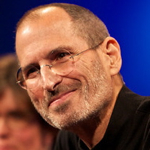 The knee-jerk reaction to news of Steve Jobs's medical leave of absence from Apple was as expected, though somewhat muted by the Martin Luther King Jr. holiday in the States. U.S. markets are closed today, so Apple's share price here remains at $348.48, its Friday close. But it's already taking a beating abroad. As I write this, Apple's stock is down nearly 8 percent in Frankfurt trading.
We'll likely see a similar drop when it begins trading on the Nasdaq again tomorrow, though the company is expected to post another quarterly blowout when it reports earnings after market close. Atlantic Equities analyst James Cordwell suggests investors prepare themselves for a drop similar to the one Apple shares suffered after the announcement of Jobs's first medical leave. "We've been here before at the start of 2009, so it's probably going to be similar to that," he told Reuters. "Operationally the company coped very well last time, but there's a certain Jobs premium in the stock, and that will be the concern."
And while that's understandable, that concern is overblown. As I wrote back in January 2009, for investors to sell on news like this is just silly:
"Because if Jobs were to leave Apple–willingly or otherwise–people won't suddenly stop buying Macs. The iPod won't suddenly go the way of the Walkman and early adopters won't suddenly lose interest in the next-gen iPhone. Nor will the Houdini-meets-Edison magic that Jobs has brought to Apple suddenly dissipate.
"Yes, Jobs's sensibility pervades Apple's culture and its products, but that culture and those products are not tethered to his health or day-to-day presence at the company. And Apple's deep executive bench is more than capable of running it–and running it well–in his absence.
"iPhones worldwide will not stop working if something should happen to Steve–although apparently there are quite a few investors who believe this is indeed the case.
"Apple will endure–with or without Steve Jobs. There will be a post-Jobs era, and whether it begins this year or 20 years from now is of little consequence."
PREVIOUSLY