Turntable.fm Really Is Awesome. Is It Legal?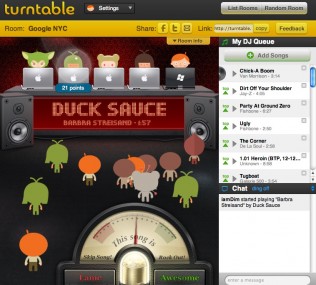 Turntable.fm is a little miracle that does something simple and essential: It lets you play your favorite songs for your friends and strangers on the Web, in real time, for free.
I'd say it's astonishing no one has done it before, but it's not: The music business has a long tradition of resisting good ideas. So how did the Turntable.fm guys finally get the industry on board?
They haven't. The start-up doesn't have deals in place with any labels or publishers.
[Record-scratch sound here.]
This doesn't mean that Turntable.fm is illegal. The company believes it's obeying the law, and it might be right. But this thing has gotten so buzzy, so fast, that it's going to be hard for the label lawyers to stay away.
Here's how Turntable got started, how it works, and why it might be able to stick around. But if you haven't already, go play with it now, just in case.
The backstory:
Turntable started as Stickybits, which did something hard to explain involving barcodes and geotagging, and seemed more like an art project than a business. Last year it raised nearly $2 million.
This spring, CEO Billy Chasen abandoned that idea and used his remaining money to build Turntable. This one is easy to describe.
Here goes: You and up to four other people take turns streaming just about any song you want for anyone who wants to listen, for free, in one of the site's "rooms." A deal with MediaNet, a digital content provider, gives Turntable access to millions of songs, and if the song you want to play isn't there, you can upload your own MP3 to the site and play that. There's a chat feature so you can compare notes, and you can "follow" your pals.
That's about it. There's a "gamification" element where you can collect points and rewards for playing music people like, but that's definitely secondary. The real thrill is sharing music, and discovering music.
The law:
So how can any of that be legal without label deals? In short, Chasen believes he's able to run the service under the protection of the Digital Millenium Copyright Act (DMCA) — the same law that lets Pandora operate without label deals — as a "non-interactive" Web radio service.
That description will seem odd to most people who've used Turntable. Because the service doesn't seem like radio at all, and it is most definitely interactive.
You pick the songs you want to play, and the order you want to play them. And if you're really into it, you'll change that on the fly, based on the song the person before you just played.
But if you spend enough time mucking around with Turntable, you'll start to run into small constraints here and there. You can't play music in a room by yourself, for instance. And there's a limit on the number of times you can play a song by a single artist per hour. And you can't see the next song another user has cued up.
None of these limits seem like real limits, because they don't detract from the service's core appeal. But these are all rules that "DMCA-compliant" Webcasters work under, and they're evidence that Chasen is trying to do the same thing. If it works, he'll simply pay music owners a flat fee for each song he streams every month, just like Pandora does.
The precedent:
In addition to Pandora, Chasen has another model to work with here: 8tracks, a three-year-old service that also lets you play any music you want, and listen to other people's music, for free, using a DMCA license. The main difference is that instead of playing the songs live, you create "mixtapes," which other users play back on their own time.
8tracks never got the same kind of buzz that Turntable is getting, but it has diligently built up a fan base, and now draws more than two million users a month. Just as important, it's been able to stay out of legal trouble. I think it's a pretty great story.
There's a technical difference between 8tracks and Turntable, too: 8tracks relies on songs its users own and upload, while it seems like most people on Turntable are using the tracks Chasen and Medianet provide. That distinction seems like a small one, but some music biz folks I've talked to have pointed to that as a red flag.*
The problems:
The risk for Turntable is the same one every music start-up without label deals faces: Not that a court will find them guilty of something, but that they'll have to spend a lot of time and money on lawyers.
And while it seems blindingly obvious that Turntable.fm is a great thing for the music business — it lets music fans tell other music fans about music they like, the best possible advertising — I wouldn't put it past a label or two to gripe about the service. Particularly if it makes the leap from the digerati into the mainstream.
(It's important to note here that there are lots of traditional music business folks who are resentful of Pandora's success, even though the company pays out more than half its revenue to copyright owners.)
If Turntable does sidestep legal challenges, it will have to make money one day, too. This is also an issue, since no one's actually proved that free, ad-supported Web music can be profitable.
But I'm much less worried about this one. If it gets to that point, the Turntable guys should at least be able to tell advertisers that their ads will be much more effective, since Turntable users spend a whole lot of time looking at their screens.
Does any of this matter?
I'm an unlikely candidate to get swept up in the buzz around a hot Web site.
I'm reflexively cautious about that kind of behavior, and it's easy to point to buzzy start-ups that shot up, then cratered (Myspace), or never got above the buzz stage to begin with (Chatroulette). And even if Turntable does stick around, it's possible that it's just a feature and not a business.
But this one feel pretty special. We've had plenty of music sites, and plenty of social sites, but none that mixed them well together. I hope they make it work.
——————————
*Don't want to bog this down in legalese, but note that Google and Amazon's music locker service, which doesn't have the labels' blessing, relies on music its users provide. But Apple got the labels' blessing to provide a "scan and match" service, where a single master track could be used by multiple listeners. I wouldn't be shocked to hear a music label lawyer tell Turntable its model is closer to Apple's, and requires a separate deal.