Exclusive: Swype Grabs More Money for its Virtual Keyboard Push
Swype, the company best known for an on-screen keyboard that lets users trace entire words, has scooped up a further $2.5 million in funding, its CEO told AllThingsD this week.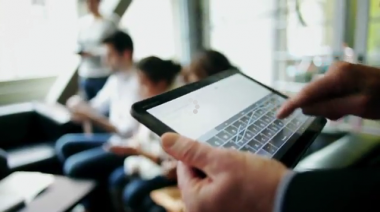 In an interview, CEO Mike McSherry said that Swype has turned profitable in recent quarters, but said the new funding will help the company continue to bulk up in its effort to bring its virtual keyboard to more places. The new funding is from existing investors, including the venture capital arms of Samsung, Nokia and DoCoMo; it completes a round that began with $3.5 million in new money form Ignition Partners — an investment disclosed back in March.
The company estimates it is now on half of Android phones shipping and is still hoping to find its way onto other leading smartphones and tablets. Swype now has more than 80 employees and has added offices in Korea, North Carolina and the Boston area, in addition to its Seattle headquarters.
"I think you will continue to see us getting deployed and moving toward our goal of being the default keyboard on any screen," he said. The company is already on 50 million devices and expects to be on double that many by the end of this year.
Last month, the company announced a new version of its software, adding predictive text as an input option in addition to its familiar tracing option. Rival Nuance also offers multiple input options as part of its keyboard software.
Next up, McSherry said, will be adoption on some Windows 7 tablets, though McSherry acknowledged it is unclear just how large the volume of such devices will be.
With Nokia as an investor, Swype is hoping that it will also land on some future Windows Phone devices. And, naturally, the company would love to find its way onto the iPhone as well, though there is still nothing to announce on that front.
"We continue to have interesting discussions," McSherry said.