Is It Too Late to Make a Social Gaming Hit?
Zynga is the dominant social game company in the world, as the maker of such titles as CityVille, FarmVille and Mafia Wars.
It has more active users than its next five competitors combined.
With that kind of momentum and few other players able to achieve such scale, many game developers are asking the question: Is it too late to get into social gaming?
"If you aren't one of the top three to five game developers by year-end, then you are in really big trouble," said Jens Begemann, the founder and CEO of wooga, a Germany-based social games company that was the second-largest player in the space until Electronic Arts purchased PopCap last week.
Begemann, pictured right, said size is an inherent advantage, because you can market new games to your existing user base.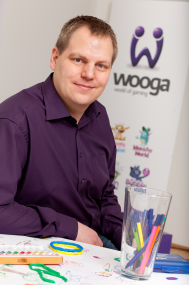 "Zynga is big because Zynga is big," he said.
Sean Ryan, the director of game partnerships at Facebook, delivered a very passionate speech yesterday at Casual Connect in Seattle, pleading to the developer-heavy audience that it's not too late for new entrants in social gaming — that it's still early and there's lots of ground left to cover.
"Social platforms are only three years old, and there's massive value creation going on," he said.
But there's a little bit of a catch.
The opportunities really lie in identifying categories that have not already been gobbled up by the leaders in the space. "We have CityVille and FarmVille. We are doing well there — and I'm not saying it couldn't be done better — but we are good there," said Ryan (pictured left).
Instead he recommends going after a few underserved niches, which may not reap as many monthly active users but can monetize well just the same.
Some of the top categories on his list are:
Hidden Objects: There are dozens of hidden-object games on other game platforms, but on Facebook there are only two, serving 200 million people. "You can't make them social? Bullshit! … My guess is we can support 50 to 100 of them."
Hardcore games: Ryan said the "core" genre didn't appear on Facebook until a couple of months ago, and today a company like Kabam has raised millions in capital and has 450 employees.
Casino: He said this category is creating "unbelievable monsters," like Playtika, which was acquired by Caesars Entertainment Corporation for $80 million. Turns out that people are completely okay winning virtual currency that they can never cash out, he said.
A few more: Hunting, Fishing, Christian, Urban and Romance.
Begemann agrees that the opportunities for newcomers lie in finding an untapped market, and says that the days of going after the mainstream casual game player and being a leader on Facebook are over.
He also believes, like many other developers here at Casual Connect, that if Facebook is getting all tapped out, then mobile is the next logical platform. He said he expects wooga to build two more Facebook games this year, and two mobile games.
Otherwise, he says the leading companies on Facebook will likely be Zynga, Electronic Arts and — he's hoping — wooga, which has such hit titles as Diamond Dash and Bubble Island.
"If you are appealing to everyone and you aren't in the top five by the end of the year, it won't work," he said.
Begemann says that's because of the larger company's ability to cross-promote new games to its user base, and bigger studio budgets for games, which are becoming more complex.
"If you start now, focus on a niche," he said. "If you are trying to build your own city or farm or simulation, it's difficult."