Zynga Bringing Words With Friends to Facebook
Zynga is bringing its very popular Words With Friends mobile application to Facebook.
This is the first time the San Francisco-based company, which is known for social games such as FarmVille and CityVille, has brought a game from mobile to Facebook and not the reverse.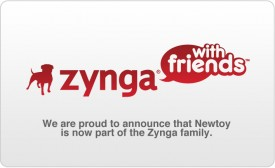 Zynga acquired Words With Friends in December after purchasing Texas-based Newtoy, and has since rolled out other titles, including Hanging With Friends.
Words With Friends is a lot like Hasbro- and Mattel-owned Scrabble and allows users to play with friends across both iOS and Android devices. Now, users will be able to pick up their games on Facebook and seamlessly move play between computer and phone.
Given that Words With Friends frequently tops the most-popular list in Apple's App Store and that Zynga dominates the top of the Facebook charts, the game is likely to do well across all platforms.
The game is expected to come soon, although a specific date was not disclosed.
The launch reminds us a little of Scrabulous, the popular Facebook widget that went through all sorts of drama regarding copyright infringement of the classic boardgame and ultimately was reborn under a new name.
In addition to the new platform, Words With Friends will also include a number of social features, such as being able to publicly call out your friends on their walls, Facebook requests that notify friends when it's their turn, and requests to invite a friend to start a new game.