Union Square Ventures Gives Turntable a Spin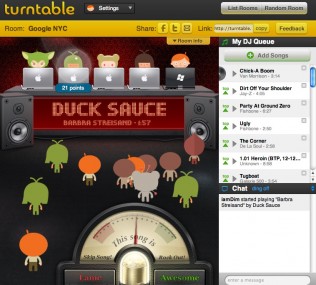 Turntable.fm, the most-buzzed about Web music service not named Spotify, has a new high-profile backer. Union Square Ventures will be leading the company's new funding round.
Betabeat first reported Union Square's involvement today; sources I've talked to tell me this has been more or less a done deal for about month.
Turntable is still lining up angel investor/advisers that it wants to recruit from the ranks of high-profile music industry executives, and once that's done they'll make the whole thing official. I've asked Turntable and Union Square for comment, but don't expect to hear back.
Closing the funding round — which I believe will be somewhere in the $6 to $7 million range — will give Turntable's Billy Chasen and Seth Goldstein time to tackle their real challenge: Figuring out how exactly they're going to work with the music industry.
The service, which lets users "DJ" streaming music for crowds who gather in online listening rooms, doesn't have any deals with major record labels and publishers. Earlier this summer, the company told me that it planned to move forward as a "non-interactive" Web radio service, a la Pandora, which doesn't have licenses, either: Instead it operates under the umbrella of the Digital Millenium Copyright Act, and pays copyright holders a rate established by an arbitration board.
But people familiar with the company say it is considering trying to strike deals with the labels after all. The upside is that negotiated pacts could give the service much more flexibility. The downside is that getting those deals done could take a long, long time — just ask Spotify, which took more than two years to break into the U.S.
At least one music industry source I trust, though, believes the fact that Spotify has gotten to the U.S. means there's now some sort of music industry/business development glasnost. According to this line of thinking, the big labels are now more willing than ever to consider new arrangements, and perhaps Turntable can squeeze in through this window of opportunity.
My bet is that you can't ever go wrong wagering on big music label intransigence, but we'll see.
In the meantime, it's interesting to note that this is the second big bet Union Square has made on music — at the beginning of the year, it announced an investment in music distributor SoundCloud.
Union Square partner Fred Wilson has always had a big personal interest in music, but until this year he hasn't put his company into any music bets, precisely because of the licensing headaches that come from most ventures. Maybe the business really is changing.