Android, iOS Surging While BlackBerry and Windows Slide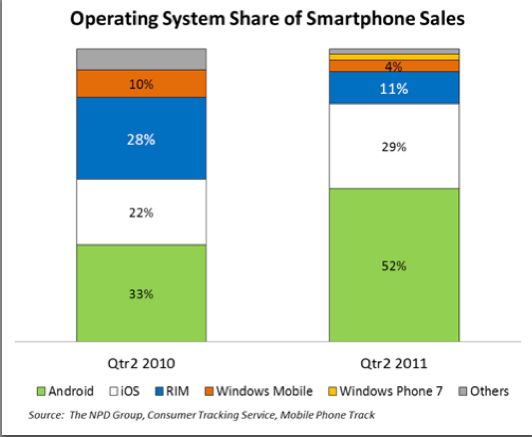 No surprises here. Android continues to extend its lead as America's most popular smartphone operating system.
According to new data from NPD, 52 percent of the smartphones shipped in the U.S. during the second quarter of 2011 were running Android, up 19 percent year over year. Apple's iOS charted significant gains as well, but along the same order of magnitude as Android's. It claimed a 29 percent share in the U.S., up seven percent from the same period a year earlier.
Sadly for the rest of the mobile industry, much of those gains were delivered at its expense. Research In Motion's BlackBerry OS, for example, saw its market share drop precipitously, from 28 percent in the second quarter of 2010 to 11 percent in the second quarter of 2011. Microsoft's Windows Mobile suffered a similarly brutal decline, falling from 10 percent in Q2 2010 to four percent in Q2 2011. And, suffice it to say, Windows Phone 7 didn't quite offset the difference.