Jonney Shih Shows New Asus Tablet, Ultrabook at AsiaD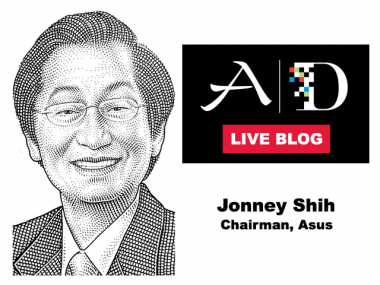 Little known outside of Asia a few years ago, Asus burst onto the scene with its Eee PC, the product that ushered in the era of the netbook.
With netbooks losing popularity in favor of tablets, Asus has responded with the Eee Pad, its own line of tablets that includes a convertible model with an optional keyboard dock. Asus is just one of many players in the space, though, and doesn't have that first-mover advantage.
Chairman Johnny Shih is joining Walt Mossberg onstage at AsiaD to talk tablets, laptops and more.
9:07 am: Jonney's on stage with the company's new Ultrabook. "As you can see, it is very thin," Shih said. Walt notes it is a good response to the MacBook Air.
Even with such thinness, we didn't compromise the performance, Shih said, noting it has an Intel core i7, a next-generation solid-state drive and USB 3.0
It weighs 1.2 kilograms, Shih said. Siri tells me that equals 2.65 pounds.
"Talk to me about laptops versus tablets, Walt says. "What's going on in the industry?"
Shih talks about the role of ubiquitous cloud computing. That means different kinds of screens, all connected to information.
9:15 am: Where are you putting your bets, Walt asks. Tablets? PCs?
"We believe that we have to bet on both," Shih said.
There are places for tablets, such as on the couch or in bed, but there are other times when a keyboard is needed. The company has models with plug-in keyboards and slide-out keyboards. But the boundaries between smartphones, laptops and notebooks are blurring, he said.
Netbooks are evolving, too, Shih said, and they, too, will be thinner and more cloud-connected.
9:21 am: "The laptop side also has to respond to this tablet trend," Shih said.
Shih said Asus is trying other things to make its laptops stand out, such as Bang & Olufsen sound in its Ultrabook.
9:24 am: Moving to Android, Walt asks what is holding things back on the tablet side.
"We still think there is a great opportunity there," Shih said. He still hopes to sell two million this year, with the Eee Pad Transformer.
"I still believe Android is improving very fast."
9:26 am: Shih also teases that he has some "top secret" gear in his briefcase that he is going to show in a bit.
9:27 am: What about Ice Cream Sandwich? Will it be on tablets by the end of the year?
"Maybe earlier than that," Shih said.
9:27 am: It's briefcase time.
Shih pulls out what looks like a new tablet.
9:28 am: 8.3-milimeter thin 10-inch screen. It's the next generation of the Transformer with its plug-in keyboard.
9:29 am: It will have Nvidia's quad-core processor.
9:31 am: USB, mini-HDMI ports.
When will this come out?
Shih said folks will have to wait until the formal announcement on Nov. 9.
"Today is only for a sneak preview," he said.
"I thought you were giving these away to everyone," Walt quipped.
9:35 am: The Verge's Joanna Stern asks about another device Asus has talked about — the Padfone, a combination phone and tablet.
The phone is already powerful enough to be a tablet, Shih notes, saying the only thing really missing is the display. That's the idea behind the device, which Asus talked about at Computex.
"That's the whole concept of the Padfone."
We still have to go through the carriers and testing, Shih said. The timing is around the first quarter of next year and will run Ice Cream Sandwich. "That's our current timing."