A Nation Divided on How to Say the Word "Coupon"
You say toe-may-toe, I say toe-may-tah. Poe-tay-toe, poe-tah-toe. And, now there's this: Coo-pon or cue-pon?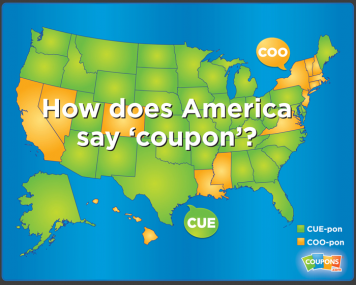 A nationwide poll finds that it's not entirely clear how to pronounce the money-saving paper clippings. The poll, commissioned by Coupons.com, asked people: "How do you pronounce the word 'coupon'?"
In what the company called "a surprise upset," 57 percent of people in the U.S. say "cue-pon."
That pronunciation was favored in 36 states, including most of the South, Midwest and Northwest. The top five states that skewed most heavily toward the pronunciation were New Mexico, Idaho, Missouri, South Dakota and North Dakota.
Meanwhile, the states that prefer saying "coo-pon" include Washington, D.C., New Hampshire, New Jersey, Hawaii and Rhode Island.
In a statement, Coupons.com CEO Steven Boal said he's been pronouncing it "coo-pon" since founding the company 13 years ago.
Coupons.com raised a jaw-dropping $200 million in capital in June, and then added $30 million more to its shopping cart only four months later.
Thus, money for goofy polls.
As Ella Fitzgerald and Louis Armstrong would have sung: "Let's call the whole thing off."