U.S. Agency Proposes Total Ban on Talking and Texting While Driving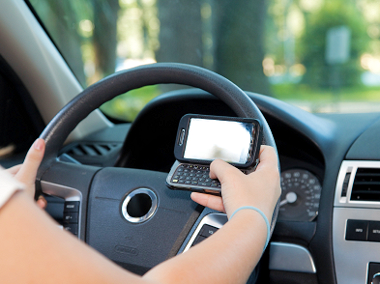 The National Transportation Safety Board — the agency that investigates major accidents like plane crashes — is calling for a nationwide ban on both calling and texting while driving even when using a handsfree device.
Citing the fact that more than 3,000 people died last year in distraction-related crashes, the NTSB is calling on all 50 states to ban the use of personal electronics while driving. And, contrary to early reports, it is proposing there be no exception for handsfree devices.
"No call, no text, no update, is worth a human life," Board chairman Deborah Hersman said in a statement on Tuesday. "It is time for all of us to stand up for safety by turning off electronic devices when driving."
While many states have created their own laws outlawing talking and texting while driving, most allow the use of handsfree devices, such as bluetooth headsets or speakerphones.
The NTSB is proposing that devices that aid in driving, presumably navigation systems, be allowed, as well as emergency use of devices.
Although the NTSB is calling on the states to pass such laws, the U.S. government has been known to threaten the withholding of federal highway funds in order to get its way on issues such as speed limits or mandatory seat belt laws.
The carriers and cellular trade industry group CTIA have supported distracted driving campaigns as well as various legistlation, while Apple, Microsoft, Google and others have increasingly been building hands-free capabilities for both dialing and texting into their devices.
The CTIA offered praise for the notion of curbing distracted driving, though it only offered specific support for the notion of banning texting by hand.
"CTIA and the wireless industry agree that when drivers are behind the wheel, safety should be their number one priority," CTIA CEO Steve Largent said in a statement. "Manual texting while driving is clearly incompatible with safety, which is why we have historically supported a ban on texting while driving. As far as talking on wireless devices while driving, we defer to state and local lawmakers and their constituents as to what they believe are the most appropriate laws where they live."
There are also an increasing number of apps, some offered by carriers, that allow parents and drivers to shut off most cellular functions when a device is being used in a moving vehicle. In some cases, the device can automatically text a reply noting that the recipient is driving.
(Image credit: ©iStockphoto.com | lisafx)