Uber CEO Responds to New Year's Eve Complaints, Plans More Surge Pricing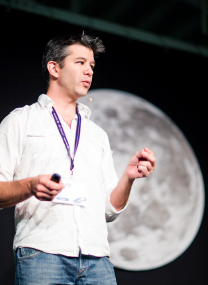 Uber, the San Francisco-based start-up behind a smartphone app that allows users to request car service, had some users uber-angry today over the fares they paid for rides on New Year's Eve.
Complaints arose on Twitter about the high price of Uber car rides due to so-called surge prices that were put into effect across multiple cities. One user, a San Francisco-based entrepreneur named Brendan Mulligan, described in a blog post how a two-minute, half-mile Uber ride cost him $75. He also offered some tips for improving the app.
Here's a sampling of complaints from irate Uber customers on Twitter:
Got charged $150 for 2.4 mile ride from @Uber last night.
While I'm glad I'm home safely, the $107 charge for my @Uber to drive 1.5 miles last night seems insanely excessive. :(
A total of 97 complaints have been logged since Saturday night about surge pricing, Uber says. That does not include the 15 users the company believes may not have gotten the surge-pricing notifications through their apps when requesting cars. The company declined to say exactly how many customers requested cars via Uber on Saturday night, but founder and CEO Travis Kalanick says the total number of rides was in the five figures. Overall, he says, the evening was a success despite the complaints.
The company is reversing charges for some unhappy customers on a "case by case basis," Kalanick says.
Uber, which launched in 2010, currently dispatches car services in seven cities, including San Francisco, New York, Washington, D.C. and Paris.
Uber doesn't dispatch its own cars, but acts as a marketplace through which users can connect with drivers. Kalanick says the surge pricing is to ensure there are drivers available for Uber customers, since those drivers could theoretically make money elsewhere during holidays and other high-demand days.
Since Uber doesn't dispatch taxi cabs, rates are generally higher than regular cab rides to begin with. Users get a direct-dial option for calling the driver as he or she approaches them, and the cars that arrive are usually high-end town cars. Uber rides also include a base fare of between $7 and $8 depending on the city, and the tip is automatically factored into the final price per ride.
The company has been known to put surge pricing into effect on nights when it anticipates demand to outpace the supply of car services available. The company did this on New Year's Eve last year, and also on Halloween. When prices are about to surge, Uber sends a mass email out to its users, puts up a blog post detailing the pricing changes, and, barring technical issues, users should also get notifications through the app during times that surge pricing is in effect.
Dynamic pricing — especially when it comes to the travel industry — is not a new concept. Kalanick says Uber faces a unique challenge when it comes to changing expectations that come with decades of fixed pricing in car transportation.
"If you look at a club that charges a $20 cover on a normal night and then charges $100 on New Year's Eve — that's just what happens," he told me. "But with Uber, we understand there are some people who feel the pain of that transition and we take some responsibility for making it as smooth a transition as possible."
He said the company will still put variable pricing into effect during holidays in the future, and is currently considering whether to do the same during weekend nights.