350,000 Textbooks Downloaded From Apple's iBooks in Three Days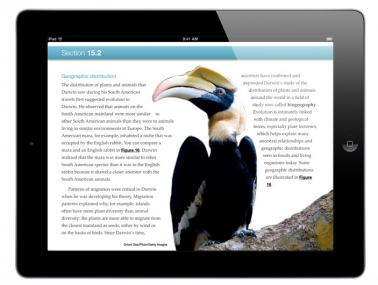 Though nascent and unproven, Apple's new textbook initiative appears to be gaining lots of momentum — and quickly, too. Within days of its debut, Apple's iBooks textbook store had already racked up a significant number of downloads. Same thing with the company's textbook authoring tool.
According to Global Equities Research, which monitors Apple's iBook sales via a proprietary tracking system it doesn't much care to discuss, more than 350,000 textbooks were downloaded from the company's iBooks Store within the first three days of availability (caveat: a number of these may well have been free copies of E.O. Wilson's Life on Earth downloaded for free by folks interested in seeing an iPad textbook in action)
And there were some 90,000 downloads of iBooks Author, Apple's free textbook-creation tool, during the same time.
If those numbers are accurate, Apple's textbook effort would seem to be off to a good start. Which is good news for everyone involved — particularly textbook publishers, who stand to make more money on books sold through iBooks than those sold at retail.
According to Global Equities Research, the supply chain markup on textbooks ranges between 33 percent and 35 percent. So there are savings to be had in cutting out that publisher-to-distributor-to-wholesaler-to-retailer process.
Add to this the lower cost of iBook production, which the research outfit estimates to be 80 percent less than print publication — and a system under which textbooks are sold directly to students, who use them for a year, rather than to schools which keep the texts for an average of five years — and the math here starts to looks pretty good.
Said Global Equities Research analyst Trip Chowdhry, "[This is] a recipe for Apple's success in the textbook industry."