Newly Public Jive Beats the Street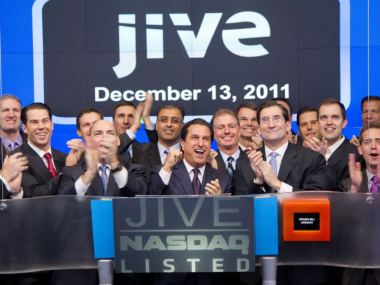 Social enterprise software player Jive Software, whose IPO in December capped an eventful year for tech offerings, reported its first quarterly results as a public company today, and they weren't half bad.
Sales grew by 53 percent over the year-ago period to $22.5 million, which beat the average estimate of analysts by more than $1.5 million, while Q4 billings of $36 million were up 40 percent. Plus, the IPO raised more than $180 million in cash.
And while that's all good, on an old-school GAAP basis, Jive finished the quarter with a $12.7 million loss that was roughly twice the size of the loss in the year-ago period. While that may seem at first to be kind of a bad thing, it's not. Since Jive sells subscriptions, it defers a lot of its revenue to later periods, so the revenue it does book doesn't readily outweigh the costs it incurs to get the sales growth done. This is common with SAAS companies like Salesforce.com and NetSuite, who also tend to run net losses on a GAAP basis, but focus on their non-GAAP results, which are more indicative of the state of the business.
I talked briefly with CEO Tony Zingale about this and other things, after he finished up his conference call with analysts. A summary of our chat is below, and below that is an interesting infographic that Jive's PR team included with the earnings release. I thought it was a nice touch, so I'm sharing it here.
AllThingsD: Tony, for those who don't know, walk us through the key metric in your results that, in your mind, made this a good quarter for you.
Zingale: Growth. Growth in revenue. It's further amplified in a new market where growth is the paramount metric, and of course it's measured against a path to profitability. And we communicated that in our guidance to the analysts. But it's all about growth. If you can't capture market share as measured by deals with large enterprises and paying customers, then the profitability metric comes into greater play. Plus, in SAAS software companies, profitability always lags because of the ratable revenue model.
How are you finding life as the CEO of a public company? I know it's not new for you, specifically, but it's new with this company.
I think it is a testament to social becoming viable and real in the enterprise. You've been following the story for more than a year. You can't go public without recurring, substantial growth, and the kind of customers and the kind of growth as measured by the repeatability of the model. All at the same time, you have to continue to innovate, fend off the competition and deliver that value. It feels good to have cleared the bar of going public, but otherwise, it's back to work.
Let's talk about the competition. Are you seeing certain people out of deals where they show up against you?
We do exceptionally well in a head-to-head competition, especially when we see a request for proposal. We're seeing more of those as we go into 2012. It lends credibility to the social business space, as corporations are thinking of social software as a line item in their budgets. The competitive landscape hasn't changed. It continues to be the large enterprise software players like Microsoft and IBM. And certainly Salesforce.com shows up when we're competing for business in the sales department, and a little bit in the marketing department. Salesforce is very well-entrenched in these situations. But we coexist with them all the time. But the landscape hasn't changed much. It's competitive in the early part of the process. But when it comes to competing inside and outside the enterprise — the flexibility of our delivery model and the strength of our reference customers — the competitors tend to fall away.