Exclusive: HP Labs Head Prith Banerjee Leaving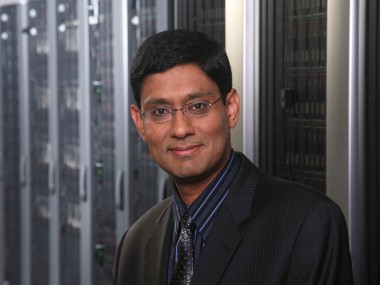 Prith Banerjee, a Hewlett-Packard senior vice president — and for five years the head of its research and development organization, HP Labs — is leaving the company effective April 15, according to an internal company memo obtained by AllThingsD. Banerjee is leaving for a position that will be based outside the U.S. with another organization, but that organization's identity couldn't immediately be learned.
Chandrakant Patel, an HP Senior Fellow, director of its Sustainable Ecosystems Research Group and 21 25-year company veteran, will head up HP Labs while a search for Banerjee's replacement is conducted. Patel first joined HP Labs in 1991.
HP Labs forms the backbone of the company's research and development efforts, on which HP spent $3.3 billion in its 2011 fiscal year, or about 2.5 percent of sales. That's up from $2.8 billion in 2009.
A source familiar with the matter says that CEO Meg Whitman is looking for a greater focus at HP Labs on innovations that can more readily be spun into products that can be brought to market. The most prominent innovation to come out of HP Labs in recent years has been the development of the memristor, a type of circuit that allows the creation of memory chips that are fast, like conventional DRAM memory, but also hold information when they lose their power supply, like flash memory. HP disclosed that it had proven the memristor's existence in 2008 — it had before that time been only theoretical — but four years later there are as yet no products based around it.
After taking over as CEO last year, Whitman ordered HP Labs to report directly to her. Previously, the unit had reported up through the chief strategy officer.
Banerjee, who I interviewed last May as part of my ongoing Seven Questions series with AllThingsD, had led HP Labs since 2007 during the years Mark Hurd was CEO. He gained a reputation for adjusting HP's research focus and placing bigger bets on fewer projects.
Before HP, Banerjee had taken leave from the academic world to build a chip start-up called AccelChip, which he sold to Xilinx in 2006. Before that he had been dean of the College of Engineering at the University of Illinois at Chicago. In that post, he oversaw a faculty of 115 in six engineering departments, with 1,550 undergraduate and 900 graduate students, and $21 million in annual research funding.
The memo from Whitman to HP employees announcing the change is below.
HP Confidential
TO/ HP Technologists
SUBJECT/ Leadership Announcement

I am writing to share the news that Prith Banerjee, senior vice president of research and director of HP Labs, is leaving HP effective April 15, 2012. He will be assuming a role outside the company, which will be announced at a later date. I am pleased to announce that Chandrakant Patel, senior fellow and director of the Sustainable Ecosystems Research Group, will serve as the interim director of HP Labs until a permanent successor is identified.

Prith has been a strong contributor to HP's product innovation and has substantially increased the visibility of Labs within the business. He's led breakthrough research, including data de- duplication, flexible displays, the memristor and nano-technology sensors (CeNSE). Prith has a passion for innovation I know you all share – a passion that will continue to flourish at HP Labs. I wish Prith well in the future.

We're extremely fortunate to have someone of Chandrakant's talent and experience ready to step into Prith's shoes. As you all know, Chandrakant is an HP veteran who has been with the company for 25 years. His team has taken numerous technologies to market, including innovations that span servers to data centers, such as the current research in sustainable data centers which is being transferred to our enterprise business. He will continue to drive Labs forward during this transition, and I couldn't be more pleased that he has agreed to assume this interim role.

Innovation is core to HP. HP Labs generates the research that turns ideas into products. As you have heard me say, one of our goals is to improve the connection between Labs and the business, so we can accelerate the path to market and translate innovation into business results. This, in turn, will help to generate growth and enable continued investment.

Please join me in thanking Prith for his service and in supporting Chandrakant with his new responsibilities.

Best,
Meg