A Massive Beat for Amazon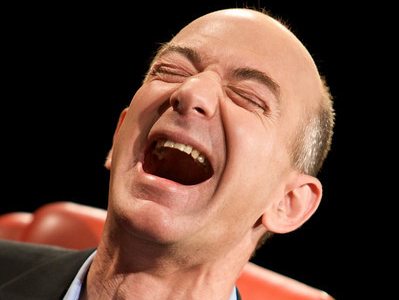 Amazon was expected to report another period of big sales growth and slim profits for its latest quarter, but it did far better than that Thursday afternoon.
After market close, the e-commerce giant turned a massive beat: Earnings of 28 cents on revenue of $13.2 billion. Operating income fell 40 percent to $192 million, suggesting an operating margin of about 1.5 percent for the quarter.
Analysts had expected the e-commerce giant to report earnings of 6 cents per share on revenue of $12.9 billion.
A big beat, and Amazon shares are spiking in after-hours trading.
Amazon CEO Jeff Bezos was typically ebullient in the company's earnings release, rejoicing over Kindle Store exclusives and the Kindle Owners' Lending Library. But, also typically, neither he nor the company offered hard numbers on Kindle sales for the quarter.
"Kindle is the bestselling e-reader in the world by far," Bezos said. "I assure you we'll keep working hard so that the Kindle Store remains yet another reason to buy a Kindle!"
Look, if it's "the bestselling e-reader in the world by far," then how about showing us some numbers?
Anyway …
Looking ahead, the company said it expects second quarter revenue of $11.9 billion to $13.3 billion.
A couple details worth noting:
Kindle Fire remains the #1 bestselling, most gifted, and most wished for product Amazon offers.
9 out of 10 top sellers on Amazon.com were digital products, I.E.: Kindle, Kindle books, movies, music and apps
Worldwide Media sales grew 19 percent to $4.71 billion.
North American sales were $7.43 billion, up 36 percent from the year prior.
International sales hit $5.76 billion, up 31 percent from first quarter 2011.