The Next Emerging Tech Powerhouse: Latin America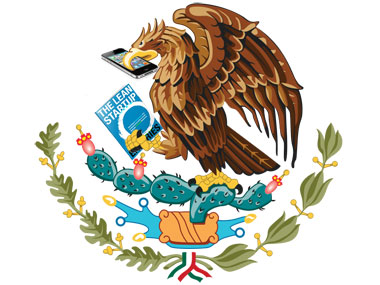 In aging buildings, hidden on unassuming side streets in the Bohemian sections of Mexico City known as Condesa and Roma, a revolution of sorts is occurring. Twentysomethings in T-shirts huddle over laptops, writing code and working on user interfaces for start-up technology Web sites. Design approaches are debated, and Lean Startup methodology is a regular topic of conversation between games of ping pong. Were it not for the fact that all discussion takes place in Spanish, the scenes in these offices would be indistinguishable from those in offices in Palo Alto, Mountain View, Sunnyvale, or any of the other South Bay suburbs that form the heart of Silicon Valley. But this is not Sunnyvale.
As Europe attempts to cope with its financial crisis and Asia braces for the looming slowdown of China's economy, Latin America — in America's backyard — is witnessing an unprecedented expansion of its indigenous technology economy. Long considered a relative backwater, rich in minerals, natural resources, and tin-pot dictatorships, Latin America in 2012 is quietly cultivating a culture of technology entrepreneurship virtually unheard of in other emerging economies.
From Chile to Mexico, pockets of local start-up enthusiasts who have long labored in obscurity are coming to the attention of a small but growing group of investors and other entrepreneurs from the United States and beyond. And interest in start-up companies, never particularly high on the radar of graduates of the best universities in Latin America, is on the rise. Business schools across the region now regularly host pitch contests and hackathons, encouraging the next generation of business leaders to embrace the concept of the knowledge economy.
A few data points:
The region is not without its troubles, of course. Mexico continues to grapple with narco-criminals, albeit mainly in the North. Brazil needs to develop its support infrastructure for small businesses; the current bureaucracy can be stifling for entrepreneurs (e.g., it can take more than 100 days to set up a business in Brazil, compared to nine in Mexico). Argentina's President Cristina Fernandez de Kirchner is becoming increasingly erratic as her country's economy slows. And certain leaders in Latin America, not least among them Hugo Chavez of Venezuela, Rafael Correa of Ecuador, and Evo Morales of Bolivia, continue to stoke anti-capitalist, anti-U.S. feelings in the rest of the region. These factors can not help but inhibit the interest of U.S. investors.
But Latin America also has strong and improving market conditions that suggest it will be an increasingly fertile ground for technology commerce. For instance, inhabitants of the region are incredibly "social." Half of the Top 10 markets worldwide, ranked by time spent on social networking sites such as Facebook and Twitter, are in Latin America. E-commerce sales in Latin America will be an estimated $69 billion in 2013, more than 50 times what they were a decade ago. Mobile phone penetration in Mexico is expected to exceed 100 percent by 2013; already, more than 20,000,000 Mexicans — roughly one in five — have smartphones. And online ad spending in Latin America is expected to double from 2010 levels, to more than $4 billion in 2014.
There is a sense among the programmers and designers in Condesa and Roma that they are technological pioneers for Latin America. They and their colleagues in other parts of the region have embraced the Silicon Valley ethos, but have adapted it to their own communities. Rather than asking for help from their Northern neighbors, they are more interested in collaborating with coders in The Valley to produce world-changing technologies. They feel that Latin America's time has come, and they are eager to seize this day.
M. Christopher Johnson is an experienced strategy consultant, entrepreneur, investor and writer. He is editor of the Latin America Startup Blog. He speaks Spanish and is based in Mexico City.