Microsoft: Office Coming to iOS and Android, Sort of, in Some Form
Although it is backing away from a press statement issued by its Czech subsidiary, Microsoft is confirming plans to bring its flagship Office software to iOS and Android, at least in some form.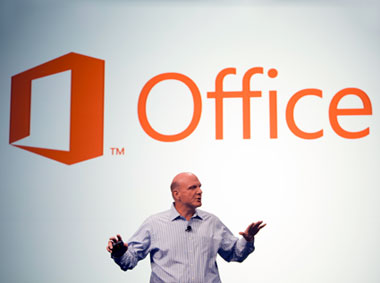 A Czech statement indicated that Office for iOS and Android would come early next year.
Microsoft's U.S. operations were less definitive.
"As we shared previously, Office Mobile will work across Windows Phones, Android phones and iOS, and we have nothing additional to announce today about retail availability of the new Office," Microsoft said in a statement.
It's not totally clear, though, when Microsoft shared this or which apps it plans to bring to rival mobile devices.
The only mainstay Office program released so far for iOS and Android is the OneNote note-taking application, along with an app supporting Microsoft's Lync unified communications.
Microsoft has released a number of other products for iOS and Android and has been actively exploring for some time whether to release its flagship Office apps for Apple's mobile devices.
It's a tricky balance for a company trying to use Office to help differentiate Windows Phone while at the same time making sure that the productivity suite remains ubiquitous in a world in which business is done on far more than just PCs and Macs.
It is clear that the Czechs said more than Microsoft was interested in saying, but it is unclear what they said that was incorrect as opposed to premature, and Microsoft declined to elaborate.
"The information shared by our Czech subsidiary is not accurate," Microsoft said. "We do not have anything further to share at this time."