Microsoft Taking Things Slow With Surface, Says Ballmer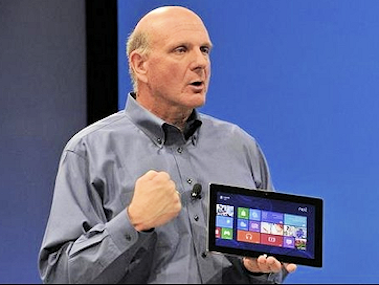 Microsoft hasn't disclosed initial sales figures for its new Surface tablet, and don't expect it to until the company has fully ramped up the device's distribution.
Speaking to France's Le Parisien, Ballmer said Surface sales "are starting modestly." But the reason for that, he said, isn't necessarily a lack of consumer interest, but the device's limited distribution. Surface is available only from Microsoft's online store and, in the U.S., at a few dozen brick-and-mortar stores and pop-up outlets.
Even so, Surface supplies have been constrained, something that Ballmer says is indicative of future demand for the tablet.
"This is a good sign," Ballmer said, adding that sales will increase as Microsoft brings Surface to more countries and expands its retail store presence.
I suppose. That said, if demand for the device was massive, you'd think that Microsoft would be crowing about it from the rooftops. Instead, we're hearing about a slow retail ramp …
Reached for comment, Microsoft spokesman Frank Shaw said Ballmer's remarks referred more to stores than sales.
"Steve's use of the term 'modest' was in relation to the company's approach in ramping up supply and distribution of Surface RT, which has only been available via our online store and certain Microsoft retail stores in the U.S.," Shaw told AllThingsD. "While our approach has been modest, Steve notes the reception to the device has been 'fantastic' which is why he also stated that 'soon, it will be available in more countries and in more stores.'"