What Happens Now on Standards-Essential Patents?
While the U.S. Federal Trade Commission mostly let Google off the hook on search competition this week, it did get the company to sign a binding consent order over how it uses standards-essential patents.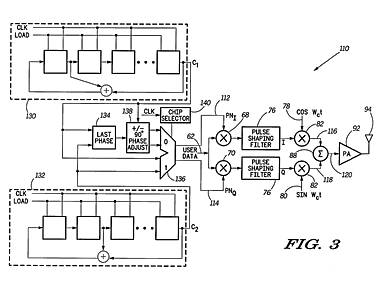 Standard-essential patents — which cover basic technology shared in an industry — have become a key issue as smartphone competitors fight over intellectual property. Having been lumped into the the long-running FTC antitrust investigation of Google over the past couple of months, patents weren't originally an issue, but they emerged as an area where regulators could find fault and make a deal.
Google became a key SEP owner when it bought Motorola for $12.5 billion last year, and it has continued Motorola's efforts against competitors like Microsoft and Apple to try to stop them from producing products on the grounds of patent infringement.
But at the FTC's urging, Google has now promised that it won't seek injunctions against willing licensees to block them from using patents that have been included in industry standards.
Still, there are some allowed exceptions to the FTC order. For instance, if the licensee is outside the U.S., or if it doesn't agree to terms set by court arbitration, then it's okay for Google as a SEP owner to ask for an injunction.
So what does this mean for the larger standards-essential patent fights? A few things — with a mix of winners and losers.
The FTC is now on record saying that Google acted unfairly. That's big.
Google doesn't have to drop its existing appeals of SEP cases, according to clarifying comments by FTC spokesman Peter Kaplan. However, Google can't obtain or enforce any SEP exclusion orders or injunctions.
Google's agreement with the FTC is binding. But it is not necessarily as strong as what Apple and Microsoft already committed to voluntarily when the Department of Justice and other agencies in Europe were looking into the matter. They both said that they won't seek injunctive relief based on SEPs, ever.
Starting with the first point, the FTC said Motorola/Google went back on its commitments to license SEPs when it tried to get injunctions in federal district court and from the U.S. International Trade Commission to block its competitors who were willing to license the patents.
Here's the quote:
Motorola … violated the FRAND commitments made to ETSI, ITU, and IEEE by seeking, or threatening, to enjoin certain competitors from marketing and selling products compliant with the relevant standards, like the iPhone and the Xbox, from the market unless the competitor paid higher royalty rates or made other concessions. At all times relevant to the allegations in the Proposed Complaint, these competitors — Microsoft and Apple — were willing to license Motorola's SEPs on FRAND terms.
For Microsoft and Apple, which have both been battling it out with Google and Motorola over disagreements concerning SEPs, this is vindication of their arguments. They have claimed for some time now that Google has not honored its obligation to license Motorola's standards-essential patents on fair, reasonable and non-discriminatory terms (FRAND).
And now the FTC has come forward and said not only that this is indeed the case, but that Google can't try to ban competing products using patents they licensed under a FRAND agreement. The settlement effectively de-weaponizes Motorola's SEPs.
Here's the kitschy infographic the FTC created to explain its take on the issue:
And there are broader implications as well for other companies that have been using SEPs in a similar fashion. Certainly, the FTC's decision does not bode well for Samsung, which has also been accused of misusing SEPs in a number of patent suits.
But on the other hand, perhaps the FTC could have been stricter. Microsoft committed via a public statement in February 2012 to never "seek an injunction or exclusion order against any firm on the basis of those essential patents," and Apple said that seeking SEP injunctions was a violation of FRAND in a letter that came to light around the same time.
Still, the Microsoft and Apple statements "have very little legal effect," said Jorge Contreras, a law professor at American University who specializes in patents and standards, speaking after the consent order was published today.
By contrast, Contreras said, "Here we have an actual proposed consent order that will have, with respect to Google, the force of law. It's much more binding, and it's much more detailed."
Also, as folks who align with Google might point out, Microsoft and Apple's patent portfolios aren't as heavy on SEPs, so these voluntary commitments might have been a bit cleaner to make.
Microsoft, as might be predicted, was unhappy with the FTC consent order and other aspects of the Thursday's announcement, saying they didn't go far enough. Deputy General Counsel Dave Heiner wrote in a blog post:
As the FTC recognizes today, Google did abuse its standards-essential patents by seeking injunctions on the basis of them. Given this, we are disappointed that the FTC accepted less relief from Google than the DOJ obtained from Microsoft and Apple last year and the FTC obtained from Bosch in a separate case just a few weeks ago.

Microsoft's commitment is two sentences.  The FTC's proposed consent decree on patents runs for 13 pages, most of which spell out exceptions—the various circumstances when Google can sue for an injunction on its standards-essential patents. This stands in stark contrast to the commitments made by Microsoft, Apple and Bosch.
With reporting by John Paczkowski.