Tell Me Again How Surface Is the Tablet Consumers Really Want
I don't think anybody has done a product that is the product that I see customers wanting. You can go through the products from all those guys … and none of them has a product that you can really use. Not Apple. Not Google. Not Amazon. Nobody has a product that lets you work and play that can be your tablet and your PC. Not at any price point.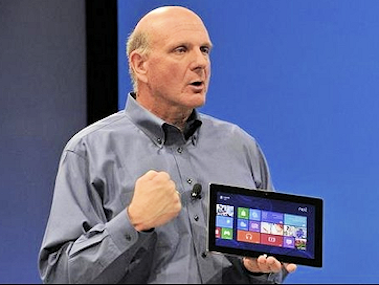 When Microsoft next reports earnings, don't expect Surface sales to be a highlight. Hamstrung by an ill-conceived distribution strategy that limited early availability to Microsoft Stores alone, the Surface RT — the consumer version of the device — has been dogged by reports of anemic demand since it launched. And today brings one more.
UBS analyst Brent Thill estimates that Microsoft sold just one million Surface RT tablets during the December quarter. Citing "a difficult iPad compare and narrow distribution," Thill cut his previous estimate of two million RTs in half, and said he now expects Surface sales of 2.5 million units for all of Microsoft's fiscal 2013. "Surface Pro is the more promising SKU as an enterprise iPad alternative," he said.
Thill's note follows a similar bulletin last week from J.P. Morgan analyst John DiFucci, who lowered his estimates on Microsoft for largely the same reasons. He forecast Surface unit sales of just 700,000 for the December quarter, and he sees sales of only 2.6 million for fiscal 2013. "We believe a number of factors, including price, the lack of cellular connectivity, and relatively lukewarm critical reviews will limit its broad appeal at this time," DiFucci said.
And this is a familiar sentiment. Back in early December, Detwiler Fenton — a Boston-based brokerage firm — also cited price, reviews and lousy distribution when it slashed its Surface RT sales estimate to 500,000-600,000 from one million to two million.
Microsoft hasn't yet revealed Surface sales data, but if this drumbeat of negative reports is any indication, it has had good reason not to.
If Surface really is, as Ballmer claims, the tablet consumers want, they clearly don't know it yet.