Apple's iPhone 5c: $99 With a Two-Year Contract, $549 Unlocked
Now we know how much the iPhone 5c costs.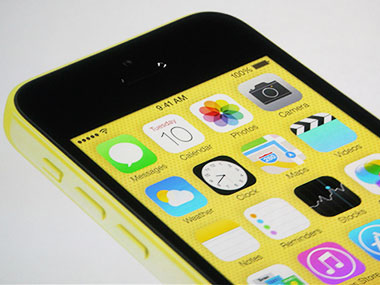 Apple today pulled the wraps off the iPhone 5c, which will cost $99 with a two-year contract in the U.S. A 32 gigabyte model will sell for $200.
Its unlocked and/or contract-free price is $549 for the 16GB version, and $649 for the 32GB phone.
The phone, which has been consistently pondered as a "low-cost" phone or "mid-tier" option leading up to this event, isn't exactly low-cost or mid-tier. Rather, it's still a fairly expensive unlocked phone and it's comparable to the iPhone 5 in terms of specs.
It has a four-inch Retina display, an Apple A6 chip and the same eight-megapixel camera as the iPhone 5. The 5c will, of course, run on iOS 7, Apple's newest mobile operating system — which older models can upgrade to, as well.
The differences between the 5c and the 5? It's "unapologetically plastic," not aluminum or glass-backed. It has "console-level" graphics and a slightly bigger battery than the iPhone 5. It also has a new front-facing camera that promises better FaceTime calls and self-portraits.
And, as widely expected, the phone will come in colors: Blue, white, pink, yellow and green.
Its un-subbed price is definitely higher than what analysts expected. Targets were set at $400 and $500 ahead of the event.
But still, by lowering the cost of the iPhone, Apple could "invigorate growth where it's been limited," according to Forrester analyst Charles Golvin.
"This is primarily about opening up the market for Apple," he added. "The target segments are price-sensitive customers, people who have been unable to join the ecosystem due to price."
According to a recent report from research firm IDC, Android smartphone shipments grew 73.5 percent between the second quarter of 2012 and Q2 2013, putting the Android OS at nearly 80 percent of global market share. Apple's iOS, in comparison, held just 13.2 percent of the global market in the second quarter of this year.
The iPhone 5c could also act as a gateway phone for consumers that have been iShy. As my AllThingsD colleague John Paczkowski put it, "… Historically, Apple has done quite well for itself using mid-tier products with lots of aspirational appeal to draw budget-conscious consumers into a higher price range. It did it with the iPod nano, and again with the iPad mini."
With the introduction of the iPhone 5c, Apple is clearly splitting iPhone into two product lines.
But you didn't really think they'd put out a cheap phone, now didja?
RELATED POSTS: