Mindjet and Spigit to Merge Idea-Generation Platforms
Mindjet, the maker of whiteboarding and task-management tools for teams, has merged with Spigit, a platform for large companies to solicit ideas from the crowd and make company decisions based on mathematical analysis of input.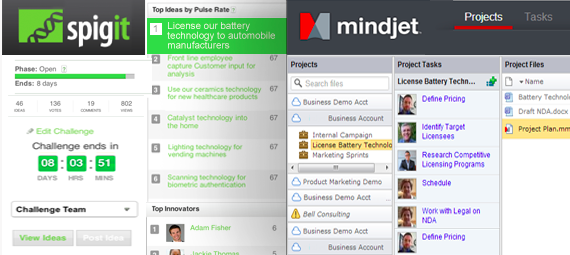 Spigit will be folded into San Francisco-based Mindjet. Though the transaction size hasn't been disclosed, Mindjet CEO Scott Raskin said the combined companies would have close to $100 million in revenue this year, and would be profitable.
Spigit had raised something like $40 million, primarily from Warburg Pincus, and had trouble paying off its loans, while Mindjet has comparatively less outside funding and has been around since 1995.
Raskin described the two companies as having complementary "purposeful social collaboration" products, compared to the many social business platforms for chatting with coworkers.
Mindjet and Spigit already share customers, including Citibank. Mindjet is licensed on a hundreds-of-dollars-per-user basis, where Spigit charges much more for large projects.
Spigit has about 100 employees, all of whom are joining the team of 300 at Mindjet, Raskin said. Spigit CEO Paul Pluschkell will become Mindjet's chief innovation officer.