Verizon Network Outage Begs Question: Is There Also a Map for That?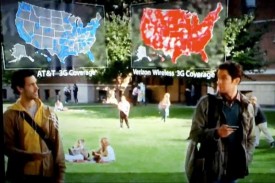 AT&T executives were no doubt grinning into their cornflakes this morning over a cock-up at rival Verizon that left many of that company's customers in the eastern half of the U.S. without access to data services early Wednesday. The network outage, which was evidently caused by some bad switch software, affected conventional data services as well as BlackBerry email and MMS.
Service was resolved relatively quickly, by 8:15 am ET, but not before hundreds of customers rushed to Twitter to carp about it and give Verizon (VZ), which has mercilessly antagonized AT&T (T) over its network issues, a little taste of some of the grief its rival has been suffering for the past year.