Yahoo Layoffs Coming December 13 (And Not This Week, Though It's Still Bad News)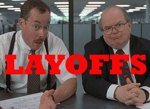 This will be short and–considering the topic–bittersweet.
Despite a report in TechCrunch saying layoffs at Yahoo might be imminent, previously reported termination of employees in its product unit will not take place this week.
Actually, according to sources familiar with the situation, they will take place in about two weeks, around December 13th.
As BoomTown previously reported earlier this month, the cuts in staff will total about 10 percent and be almost completely centered on the product organization under Chief Product Officer Blake Irving.
That would mean layoffs of about 650, since that part of Yahoo has about 6,500 employees.
In addition, said sources, the layoffs might result in the outsourcing of some functions at the company.
The move will surely be yet another blow to morale at the much-buffeted Silicon Valley Internet giant.
Google recently gave each of its employees a 10 percent pay raise and $1,000. Facebook, similarly, is showering benefits on its fast-growing pool of workers.
Yahoo currently has just over 14,000 employees. It has undergone many restructurings and layoffs.