Early Adopter: Connect Your Personal Data Pipes Together With Ifttt's Digital Duct Tape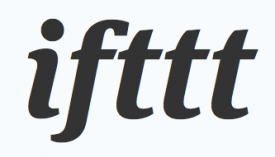 Early Adopter is all about emerging trends and the chewy little companies that creep in to define emerging spaces.
For a couple of years, I've been watching companies expand the conception of what APIs can be used for.
As the complexity and utility of those data pipes grow, companies have been adopting another trend: One that places graphic and interface design at the center of a new product, as much as the engineering and programming that makes it function.
This is a trend that ifttt founder Linden Tibbets has been thinking about as well.
Ifttt, (pronounced "ift") stands for "if this, then that," which über-geeks will recognize as a foundational logic and programming action.
The concept is simple. When one state is reached, an action will automatically be triggered.
For example, there is an "if" function inside the computer that controls the automatic wipers on a car. If rain is sensed, then the wipers turn on.
Ifttt pulls a user's Web services out of their silos and allows those automatic if functions to take place across several services at once–essentially allowing users to easily connect several APIs end-to-end.
In the case of Tibbets's ifttt Web app, the user chooses from channels to create the if situation, and then from other channels to have the output, or the then-that action. All of the ifs and thens are gathered from the growing API-driven Web.
Got it?
Although bootstrapped and still in private beta, ifttt is already building up an impressive set of services that can help users connect to and semi-automate.
As of today, ifttt already connects to and enables actions between several Web clipping services, Facebook, Twitter, Vimeo, Evernote, Flickr, phone–both voice and text–and even craigslist.
Each channel has its own set of action choices, depending both on what the service is used for and what actions are acessable via that service's API.
Actions can be as simple as automatically sending the user a text message when the weather changes to rainy (not a new trick), or as complex as automatically uploading an image to Facebook whenever the user uploads that photo to flicker with the tag "Facebook."
"Right now we are focused on adding more channels and listening to what users want to use the service for," said Tibbets.
He explained that he and co-founder Jesse Tane are working on integration with cloud file service dropbox, as well as on Google Chat integration.
Tibbets comes to ifttt after a few years situated right between the design and tech spaces.
After attending Santa Clara College on a basketball scholarship (he's around 6′ 6″) and graduating with a computer engineering degree, he spent time working on games at Elecronic Arts before moving to Palo Alto, Calif.-based design darling IDEO.
Tibbets spent the last three years working on internal social-sharing projects at IDEO, before founding ifttt and launching the Web app of the same name in early November of 2010.
Ifttt is useful for sending yourself notifications, but Tibbets believes the real value is in creating connections between the Web services available in ifttt.
The zeitgeist for APIs use is to channel info out of one Web service and into another, as defined by a single site or app maker. Tibbets's efforts put individuals more at the center of how their information flows around them.
This concept can get complicated in a hurry, and that's where others have failed, at least according to Tibbets.
He explained: "It's about usability, and being simple enough to understand and implement in your own life. Ifttt began more complex, but we cut a lot out of it, to make it simple enough to understand quickly."
Indeed, lack of simplicity may be what keeps services like Yahoo's Pipes, which can do many of the same things ifttt can, from becoming popular with a broader consumer group.
Ifttt is also developing native mobile apps that will focus on ultra-simple activation of an ifttt task.
He said that a major barrier to him doing certain things on a mobile device is that he feels it is just anti-social to have his phone out for more than 20 seconds.
To alleviate the anti-social dilemma, ifttt's mobile apps will focus on quickly activating preprogrammed tasks.
Ifttt co-founder Tane is working full time on the apps, although there is no release date set.
Tibbets admits that ifttt is still little more of an idea and a high-resolution prototype than it is a full-fledged product. But his hopes hang on his philosophy about how to build value, which is either a little counter to, or ahead of, the current trend in Web apps.
"Our value won't be built on adding your friends or sharing functionality to some other service," he said. "Ours will be about creating something that would still be a valuable if there were only 20 people left on earth and none of them were your friends."
We sat Tibbets down (literally, we had to make him sit or we wouldn't have been able to reach to get good video) near ifttt's San Francisco headquarters to get the quick rundown on ifttt's present and future. Enjoy the video.
(Early Adopter is a new column on early-stage start-ups and ideas written weekly by Drake Martinet.)