Massive Layoffs Expected at Nokia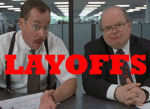 Nokia's decision to make Microsoft's Windows Phone 7 OS its primary smartphone platform is a bold move. It's also one that presages a tough next couple of years for the Finnish company, which must restructure to pull it off. As we heard earlier today, there's already been some significant executive upheaval, with Alberto Torres, who had been overseeing development of Nokia's MeeGo OS, leaving the company to pursue other interests. And soon there will be cuts in Nokia's rank and file as well–significant ones, according to Nokia CEO Stephen Elop.
"We are not announcing how many and in what country," Elop said this morning. "But there will be substantial reductions in employment in various locations around the world, and that too will affect Finland."
The Finnish government is already bracing itself for the hit. "You're talking about 20,000 people, it's a big number," Minister for Economic Affairs Mauri Pekkarinen told YLE. "We're talking about far and away the biggest process of structural change that Finland has ever seen in the new technology sector."
Ugly.
That said, as I've noted here before, Nokia's R&D spend is nearly three times that of its rivals and about five times that of Apple.
Oh, and don't fret too much, Nokia staffers. Google's hiring …

UPDATE: Reached for comment, Nokia refused to confirm Pekkarinen's number. But it didn't deny it either. "Stephen mentioned that there would be significant changes but the impact of the new strategy on personnel is not known yet until the planning process for implementation of the new strategy is started," a spokesperson told me. "We have a strong track record and positive experiences of supporting employees in this kind of a situation and will aim to support the employees with different solutions. As always, when impact on employees are known we will announce them, and if job reductions are warranted we will follow all relevant legislation and practices."
COMPLETE COVERAGE: