E-Reader Growth Outpacing Tablets in Recent Months
Although most Americans still don't have either an iPad or a Kindle, the number of folks owning both e-readers and tablets continues to grow.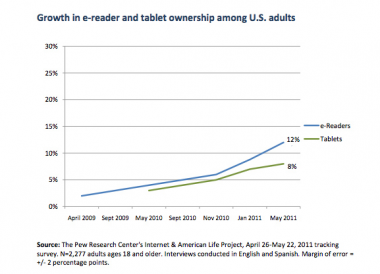 Interestingly, though, growth in e-readers has actually accelerated in the last six months, while tablet growth has been relatively flat in recent months after enjoying a steep ramp-up following last year's launch of the iPad.
According to a study conducted by the Pew Internet Project, the number of adults in the U.S. with a Kindle, Nook or other e-reader doubled between last November and this May, to 12 percent from 6 percent. Tablet ownership has grown three percentage points in the same timeframe, from 5 percent in November to 8 percent as of May.
"This is the first time since the Pew Internet Project began measuring e-reader use in April 2009 that ownership of this device has reached double digits among U.S. adults," Pew said in its report.
Around 3 percent of adults have both a tablet and an e-reader, the survey found.
Both devices still fit in the nascent category, though, well behind established devices such as desktops, laptops and digital video recorders, each of which is owned by more than half of adults. Some 84 percent of adults in the U.S. own a cellphone.