Zynga's New Mobile Game Will Incorporate Location-Based Check-Ins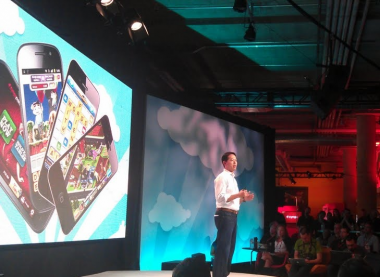 Zynga unveiled a slate of new products today, and mobile was a central theme.
In addition to announcing a new online games platform, three new Facebook games and one new game on Google+, Zynga also revealed five mobile games.
Three of the games — Zynga Poker, Words With Friends and FarmVille Express — will utilize HTML5 technology and run on Facebook's iPad app and mobile Web sites. Those games are expected to launch tonight.
A fourth game is Mafia ShakeDown; the fifth is Dream Zoo, a standalone mobile game that is Zynga's first zoo-themed game.
Dream Zoo will challenge players to pet, feed, bathe and breed all sorts of animals, from rainbow giraffes to polka-dotted flamingos and electric-green elephants.
In an interview at Zynga's event, Chief Mobile Officer David Ko told me it will be the first time Zynga is incorporating location-based check-ins — similar to Foursquare or Facebook Places — into a mobile game.
He said the game will rely on Facebook's data, allowing users to check in based on where they are playing the game.
In a follow-up interview, Ya-Bing Chu, the general manager of Words With Friends, told me users will get rare items in the game for going to a particular location, but generally, Zynga will be experimenting to see what users end up liking.
In the game, players will be expected to complete expeditions, but he said you could envision how that could overlap into real life, like going to a city park or even a real-life zoo. "We aren't sure what will work," he said.
Zynga's mobile announcements today can be considered a major push, given that Zynga has been slow to roll out aggressive plans in mobile. Dream Zoo and Mafia ShakeDown are expected to launch shortly.