Groupon Acquires Mertado for Its Social Commerce Expertise
Groupon has acquired its second start-up in the social commerce space over the past month.
Today, the daily deals site confirmed it has acquired Bay Area-based Mertado, a social shopping company that helps consumers discover new products. The acquisition was first reported by TechCrunch.
In a statement provided to All Things D, Julie Mossler said: "Groupon is excited to announce it has purchased Mertado.com."
Terms of the deal were not disclosed; however, Mossler said several members of Mertado's staff will join Groupon, including founders Mehul Shah, Rajiv Bhat and Vijay Chittoor, who is also the CEO.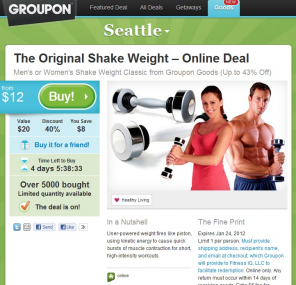 Groupon was interested in Mertado's expertise in the social commerce space, including the launch of Mertado TV, which combined video content with products. In a post on Mertado's Web site, the company said it was no longer accepting new registrations and will officially shut down on Feb. 28.
Going forward, it directed Mertado customers to Groupon Goods, which offers an eclectic mix of physical products for sale, like kitchen gadgets, consumer electronics and the Shake Weight.
Last month, as Liz Gannes reported, Groupon acquired Campfire Labs, which will head up the company's social efforts. Before that, Groupon had been actively trying to buy other social start-ups such as Gowalla, which was acquired by Facebook, and Clever Sense, which went to Google.