Facebook's "Social Readers" Still Fading
A quick follow-up on this month's stories pointing out the decline of the "social reader" on Facebook. Upshot: They're still in free fall.
Two quick snapshots, via Cristina Cordova, using stats from AppData. Here's the usage data for the Washington Post's Social Reader. Note the second steep drop, in the middle of this month:
And the Guardian's, which has the same pattern and the same mid-May drop: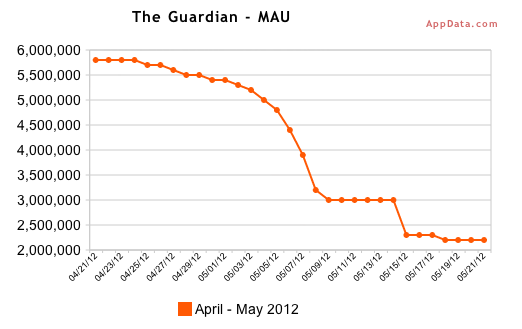 Note that Cordova runs biz dev for Pulse, the iOS/Android news reader app, so she's presumably not unhappy about this trend.
But I don't have a dog in the fight, and I'm delighted with it myself. I've always thought the "social reader" apps were bad ideas, executed poorly: I don't need to automatically know what my friends are reading — I only want to know about the articles they want me to read, and they're pretty good about telling me that. And I don't want to have to use an app to read them — the Web works just fine.
The new digerati consensus is that the drops don't indicate a sudden revulsion by Facebook users, but that they're the result of Facebook engineers twisting the dials, and ensuring that Facebook users don't see the apps in their feeds anymore.
There's an important lesson there for any Facebook partner or would-be partner (hello, Socialcam!). But as a Facebook user, I don't really care — I'm just glad I don't have to see these things anymore.