Apple Literally Designs Its Products Around a Kitchen Table
Longtime Apple industrial designer Chris Stringer testified that the company has a small team of 15 or 16 people that fashion all of the company's products.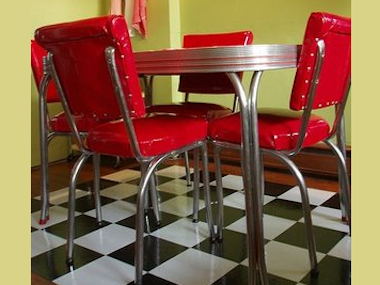 The group meets frequently, literally sitting around a kitchen table, to debate all products under development.
"We'll sit there with our sketch books and trade ideas," Stringer said, appearing as the first witness in the Apple vs. Samsung trial. "That's where the really hard, brutal honest criticism comes in."
From there, the group puts the sketches into a computer-aided design program and, if warranted, creates a physical model.
"Our role is to imagine products that don't exist and guide them to life," Stringer said.
There could be 50 designs for a single button, he added. "We're a pretty maniacal group of people," he said.
This process, he notes, is what led to the iPhone and iPad among other products. With the iPhone, Stringer said the company wanted something that would "wow" people, in particular because Apple was new to the market.
Apple is seeking $2.5 billion in damages, while Samsung is also seeking damages.
Stringer, who reports to Apple design chief Jony Ive, said he has been involved in every product Apple has released since he joined the company in 1995.
Earlier in the day, Apple made its opening argument alleging Samsung copied the iPhone and iPad and infringed on several patents. Samsung, meanwhile, said the facts will show that it, like others, was inspired by the Apple products, but that Apple is also inspired by its competitors.
Apple Senior VP Phil Schiller is expected to be the next witness, following Stringer.
Update, 3:06 p.m.: In later testimony, Stringer was shown an early model of the iPhone, which bore the label iPod. He was asked why it had the name iPod on the back.
"Either we had not yet coined the term iPhone, or we were trying to disguise its iPhone identity," Stringer said.
Other models, created later, known generally as the "extrudo" models, feature a brushed metal look and a lozenge-like shape. Apple ultimately abandoned that approach, Stringer said, and returned to the design concepts present in the earlier model.
"We found something more beautiful," Stringer said, noting that Apple decided to go revisit its earlier look, something it often does.
---