YouTube Powerhouse Maker Studios Fights With Its Biggest Star. It's Not Pretty.
YouTube star Ray William Johnson and YouTube network Maker Studios agree on one thing: Danny Zappin, Maker's CEO, is a felon.
Everything else is up for debate.
Zappin's legal past came up yesterday as part of an ongoing dispute between Johnson, one of YouTube's most popular personalities, and Maker, which distributes his video shows.
It's the Web video world's highest-profile breakup. Now it's getting unpleasant.
In a post published on New Media Rockstars, a digital media news site, Johnson (pictured above) laid out a series of complaints against Maker. Along the way, he reports that Zappin "got drunk with me one night and informed me that he was a 'convicted felon' and that he was waiting for his criminal record to be expunged so that he could officially become CEO of Maker."
At least some of that is true, says Zappin, in a letter he distributed to Maker employees today. Here's the relevant excerpt: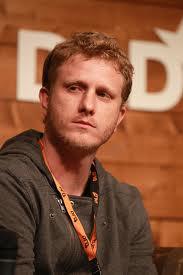 "As many of you are aware, about 12 years ago, I made a mistake for which I was convicted of a felony drug possession. This is not something that I am proud of, nor is it something that I hide or am ashamed of. I chose to look at it as an opportunity to learn and grow from. It was a mistake, but it helped shape who I am today."
You can read the rest of the letter at the bottom of this post (I've asked Johnson, via Twitter, for additional comment).
If you're in a hurry: Zappin (pictured on the left) says he won't comment about Johnson's complaints — in short, Johnson says Maker is trying to renegotiate their deal, and he wants out — except that Johnson remains under contract.
"What I can say is that we continue to honor our obligations," Zappin writes.
That's a much more considered response than the ones Zappin fired off earlier in the week. In a Facebook comment left on Johnson's post on Tuesday, Zappin promised to "full on expose about your selfish ego driven actions and the real truth.  Maker will not tolerate lies of low life ego-maniacs that think they are better than everyone else."
That's much more exciting than the standard star vs. producer/studio/distributor fights that we're used to seeing in Hollywood. Because those generally don't involve Facebook comments, iMessage taunts and Instagram posts. (Zappin to Johnson, via an early morning text Johnson later posted: "You're lack of integrity and character are said. Fuck you. Prepare for war… bitch.")
But if you want to, you can view this as another sign that YouTube and Web video have arrived.
After all, there's real money involved — Johnson is making signficant dollars personally (he has disputed a Wall Street Journal story that pegged his yearly income at $1 million). And Maker is set to close an investment round led by Time Warner that will value the company at more than $200 million.
This may also play out differently in the Web world than it does in Hollywood and most of the entertainment industry. In most cases, even the very biggest stars need corporate backing, either to fund their productions, pay their salary or distribute their work.
But in YouTubeland, it's entirely possible that stars with direct connections to their fans, like Johnson, may have much more power when they take on the digital equivalents of networks than they would on TV or in the movies. Note that most of Johnson's current beef about Maker seems to be about control of the money his videos make via Google's AdSense platform — a revenue stream that (theoretically) anyone can use, without any time or expense.
Strip out the vitriol from this one, and there's a very interesting experiment in new media leverage going on. Stay tuned.
Hi All,
I felt it was probably a good time to reach out and communicate directly to all of you. It's been an amazing year which is coming to an end with no shortage of excitement. I want to explain some of the things that are floating around and hope to give more clarity and transparency to all of you, as I'm sure you may have questions and concerns.
The founders started Maker for two reasons: We believed passionately in YouTube and we wanted to give talent the support, resources and community that would help them excel on the platform. As talent ourselves, we experienced firsthand how challenging it was to have to be a one person production studio – from wardrobe, to make up, to producing and editing – and then find time to be creative. Maker was started with people who are like family. Many of our friends quit their jobs, moved to LA, slept on our sofas or in Maker houses to pursue this dream with us. Our friend and fellow YouTuber Shay Carl was the first YouTube talent to move here to help start Maker and everything snowballed from there. Shay picking up and moving his whole family from Idaho helped make what was just an idea at the time into a real thing. It's incredible what we have achieved together as a company since then.
In the last three years, Maker has grown to more than 300 employees, the No. 1 independent network on YouTube and will cross 2B views/month in December. We now have an amazing new studio that includes shooting spaces, production offices, prop and wardrobe areas, edit bays, recording booths and more. All along we sought to create a community and space that would give staff and partners the tools and resources to continue to drive content creation and creativity. We wanted to help as many individuals as possible make a living doing what they love, which is being creative. In the process, we have created a totally new entertainment model. I am blown away by what we have accomplished together and it could not have been done without all of you. Thank you.
I also want to address Ray William Johnson's recent blog post. To clarify, Maker has an ongoing contract with Ray, as we do with every YouTube content partner we work with. We treat contracts confidentially, so I can't get into specifics. What I can say is that we continue to honor our obligations. Ray receives everything that is owed to him. He has full transparency into his earnings, as does every single talent in the Maker Network. He receives exactly what his channels earn under the terms of our deal.
To the teams at Maker who went above and beyond to support Ray for over a year and a half; we want you to know that we appreciate all of your hard work. Many of you have worked on =3 as writers and crew, on the animation team that helped to create Your Favorite Martian, in the music studio where you produced and created the music for YFM, on the tech team that created his website, in the legal department where you protected his trademarks, on the merchandise team that made =3 t-shirts and hats, or with internal management where you booked his guest hosts along with helping him to navigate seamlessly through all of these areas. I want to thank you all for your hard work and dedication. Together, you have created some of the most viewed content on YouTube. Please know you are all very much appreciated by the Maker founders and management team.
Moving on to me. As many of you are aware, about 12 years ago, I made a mistake for which I was convicted of a felony drug possession. This is not something that I am proud of, nor is it something that I hide or am ashamed of. I chose to look at it as an opportunity to learn and grow from. It was a mistake, but it helped shape who I am today. In the end, it changed the course of my life in a very positive way. I was extremely motivated to learn from my mistake and worked hard to prove to myself and others that I could be successful and live up to my full potential. I have been transparent with our senior executive team, investors, friends and family about it. I feel it is important to share with all of you, as it was an important life experience that led me down the path of helping to build Maker. I couldn't be more thrilled to be given a second chance.
To all of you that have shown your support for me during this time, I really appreciate it. The texts, tweets, hugs, videos and support of my family, friends and fellow co-workers have been very moving. Although I have not personally replied to all of you to say thanks, please know your support and encouragement is much appreciated and has been an overall reinforcement of my love of this company and all of you.
Thank you,
Danny