U.S. Stocks Tank Briefly in Wake of Associated Press Twitter Account Hack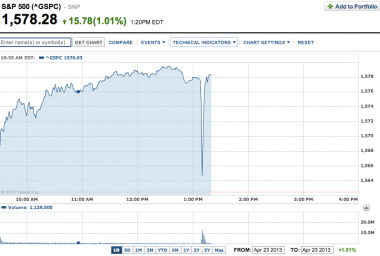 The official Twitter account of the Associated Press was hacked on Tuesday morning, according to an AP spokesperson, sending out a disturbing message that gained immediate traction across Twitter, spurring upward of 4,000 retweets within minutes of the initial tweet.
The hackers were able to send only a single tweet before Twitter suspended the account, merely minutes after the tweet was sent.
The tweet in question was disturbing. "Breaking: Two Explosions in the White House and Barack Obama is injured," the fake tweet read.
But the rest of the world reacted quickly. Stocks on the DJIA dove briefly by about 130 points on the news, before sharply recovering to roughly where they were before, around 14,700.
The news comes after a weekend of similar hacks on news organizations, including some CBS News accounts. The Syrian Electronic Army claimed responsibility for the attacks. Earlier this month, a number of NPR's Twitter accounts were hacked, and last month saw hacks to the Human Rights Watch website.
According to a tweet sent from "@officialSEA_6," the AP hack could also have been carried out by the Syrian Electronic Army. "Ops! @AP get owned by Syrian Electronic Army! #SEA #Syria #ByeByeObama," the tweet read.
Something worth noting: AP reporter Michael Baker tweeted that the hack "came less than an hour after some of us received an impressively disguised phishing email," which may explain how the hackers gained access to the AP Twitter account.
"The (at)AP twitter account has been hacked. A tweet about an attack at the White House is false. We will advise on acct. status," said the Associated Press, via a tweet from its other verified account, @APStylebook.
"The president is fine," White House press secretary Jay Carney said at a regularly scheduled press conference on Tuesday morning. "I was just with him."
As is standard operating procedure, Twitter declined to comment on an individual account, citing privacy and security reasons.