Notes From a n00b at E3: A Sensory Overload of Fun and Games (But Mostly Just Games)
This line at E3 is killing my feet. The guy in front of me says he has not moved in five minutes.
"Do you think this is an actual line, or a fake one?" he wearily asks.
Our anticipation could not be greater. For what seems like ages, we have been dreaming of and dying to get our hands on just one thing. The PS4? The Xbox One? The Ouya?
Actually, a cup of coffee.
Welcome to E3: Home to infinite hype, hundreds of videogames (and two understaffed Starbucks). We needed that coffee because the videogame trade show, happening this week in Los Angeles, is at once exciting and exhausting, like running uphill in the sand while chugging a six-pack of Red Bull.
That's seemingly by design. It's my first time here (which makes me a n00b), but for veterans of the conference, E3's sensory overload is business as usual. And I do mean business: Walking into one of the event's two main expo halls is like a journey into Karl Marx's worst nightmare. It's a capitalistic celebration of gaming's newer, bigger, flashier, louder, brighter stuff. All stuff that is competing for the same dollars, with largely the same tactics.
There are titanic posters for the next blockbuster war games, like Battlefield 4 and World of Warships; many costumed booth babes and a few booth bros; and lighting displays that seem to have been yanked from a Bon Jovi concert and then doubled in size and intensity. Even the non-hardcore, family-oriented games, like Disney Infinity, Super Mario 3D World and Skylanders: Swap Force, got giant screens for their trailers and life-sized props from the games.
All available for photo ops, naturally.
Our first full day in L.A., one day before E3 officially began, played host to press conferences from Microsoft and Sony in borrowed sports stadiums, and from EA in the famed Shrine Auditorium. By the end of that day, my body had been shaken so much by the rumbling bass of virtual car crashes and gun blasts that I wondered if I had lost a pound or two.
The gap between the companies pumping stadiums full of bass and everyone else is plain to see. For the first time this year, E3's organizers have set aside a small pavilion for online and mobile games. But the sparsely attended annex was the exact opposite of the big booths on the main show floors, with no fancy lighting, no pulsing music, and only one person in costume, a poor Disney rep dressed as a guard from Oz: The Great and Powerful.
Talking to attendees of E3s past, I understood that everyone shared my exhaustion. But the fact that I was questioning it was itself questionable. "Welcome to E3!" one person said gleefully.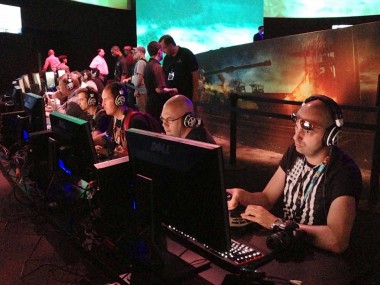 Software is what sells hardware, and the audience for E3 is the consumer who is still willing to drop $60 on a high-quality title. So game makers here must engage in a battle of Mutually Assured Entertainment. If their games can't be big, showy, blow-your-head-off attractions, then they won't get noticed at E3 as much as they might elsewhere.
Indeed, booth staffers for the handful of smaller software developers in attendance had to lobby passersby hard to get them to try their games. Meanwhile, players in the vicinity of new Xbox and PlayStation titles stood in gargantuan lines just to get a short hands-on with the unreleased blockbusters.
That's who E3 is for: The faithful, who still hoot and holler when they see that new Halo trailer or FIFA gameplay. No matter how long the lines are here, they're a fair trade-off for the ability to play those games now.
E3 could work just fine without the competing sound and fury of all the booths, but where's the fun in being whelmed rather than overwhelmed?