AOL Makes the Biggest Buy of the Tim Armstrong Era: $405 Million for Adap.TV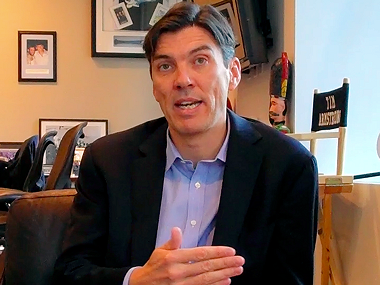 Tim Armstrong hasn't bought anything for a couple years. Now he has made his biggest purchase since taking over AOL in 2009: AOL is buying Web video company Adap.TV for $405 million in cash and stock.
That eclipses the $315 million AOL paid for the Huffington Post in 2011, and it's a very different kind of purchase: Instead of producing content, Adap.TV uses software to match video ad buyers and sellers.
Video has been a big focus for AOL in the last few years, spurred by its acquisition of video syndicator 5Min in 2010. Last year, Armstrong said the company was on pace to do $100 million in video revenue.
This deal also syncs up with Armstrong's push to emphasize "programmatic" ad sales, where buyers use technology to buy up big chunks of inventory; Armstrong is trying to position AOL as an alternative to Google's own "stack" of ad technology that revolves around its DoubleClick platform.
AOL said it will pay $322 million cash for Adap.TV, which is based in Silicon Valley but has Israeli roots; the remainder will come from AOL shares. At the end of Q2, AOL had $483 million in cash on hand.
Adap.TV reportedly raised $49 million over the last seven years; investors include Bessemer Venture Partners, Gemini Israel Funds, Redpoint Ventures and Spark Capital.
People familiar with the transaction say that AOL and Adap.TV had on-and-off talks about a sale; Calcalist, the Israeli business newspaper, reported the possibility of a deal in July.
In addition to other acquisition offers, Adap.TV had also been considering a public offering. But video ad company Tremor had a disappointing IPO in June.  YuMe, another video ad tech play, is going public today, and investors don't seem excited about that one, either.
Here's the SEC filing with deal details. And here's how AOL describes the Adap.TV deal, which it announced along with its Q2 earnings:
"Adap.tv Brings to AOL:
The only complete global programmatic video stack for publishers and advertisers across all screens; A unified yield management platform for advertisers and publishers for planning, targeting, ad-serving and measurement; One of the fastest growing platforms on the internet, with global revenue growth in excess of 100% per year in each of the last three years; Wide adoption by the largest global advertisers and publishers, including 83 out of the Ad Age 100 and 70 of the comScore 100; A talented team which has driven innovation in the automation of global video advertising."
And later on:
"On August 5, 2013, AOL entered an agreement to acquire Adap.tv for shares of AOL common stock with an aggregate value of approximately $83 million and estimated cash consideration of approximately $322 million, subject to adjustment for working capital and reduction for indebtedness and transaction expenses of Adap.tv that remain unpaid as of closing.
Adap.tv is a leading and global unified programmatic video platform powering video advertising for brand advertisers, agencies, publishers and ad networks. Adap.tv's platform allows buyers and sellers to make decisions together on a unified technology platform, leveraging comprehensive data intelligence, across all screens. The combination of AOL and Adap.tv is expected to create the only global company with a full end-to-end solution and video stack for publishers and advertisers."