Steve Ballmer Just Made $769 Million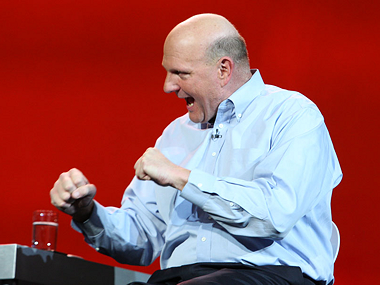 As difficult as it may have been for Steve Ballmer to announce his plans to retire as CEO of Microsoft within the next year, there's one thing that likely made it a bit easier to stomach — the big spike in his personal wealth that followed. Turns out that Ballmer made nearly $1 billion by quitting.
According to Microsoft's latest proxy, Ballmer owns 333,252,990 shares of the company. At yesterday's closing price of $32.39, they were worth approximately $10.794 billion. But this morning, after Ballmer disclosed his retirement plans, Microsoft's share price rose some seven percent, pushing the value of Ballmer's stake to $11.563 billion, and making him $769 million in the process.
Here's one metric by which Ballmer will be judged harshly. On the last day of 1999, the day before he took over as CEO, Microsoft's market capitalization was $600 billion. On the day before he announced his intention to retire, it was less than $270 billion.
RELATED POSTS:
Arik Hesseldahl contributed to this report.