Apple in Extreme Mapover?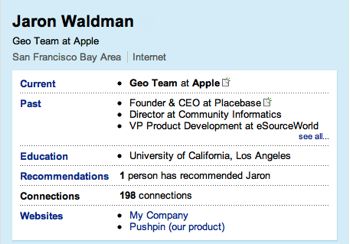 The deal went unnoticed until this week, but Apple evidently bought mapping outfit Placebase this past July in an acquisition that may have undermined its relationship with Google, which provides mapping technology for the iPhone.
The deal and its terms were never announced and Apple has not confirmed it. But Computerworld notes a summer tweet from a Placebase customer claiming the acquisition had been made in "hush-hush" fashion. The tweet also notes that Placebase founder and CEO Jaron Waldman's LinkedIn profile now shows him as part of the "Geo Team" at Apple. And Placebase.com, which once touted the company's Pushpin mapping platform has been taken offline.
Reached for comment, Apple (AAPL) declined to offer one–or to confirm that the acquisition has even taken place. But assuming there has been an acquisition–I know the evidence we're dealing with here is circumstantial at best–this might explain the increasingly strained relationship between Apple and Google (GOOG), the Apple board's Schmidt-ectomy and the Google Voice for iPhone debacle in which the companies offered two very different stories to explain the application's rejection/delay from the App Store. If Apple has acquired Placebase, it could certainly use that company's technology to replace Google Maps with an in-house mapping solution.
Of course, Apple might have something else in mind entirely–adding a new layer of customization to its current map offering, perhaps. After all, that was Placebase's forte–enhancing maps with private and public data sets (demographics, crime data, etc.). In any event, we'll never know unless Apple tells us, and right now, the company clearly has no intention of doing so.