BoomTown Decodes Ron Conway's Super Angel Super Fit (So You Don't Have To)!
Ah, there's nothing like a manly hissy fit amongst a passel of white dudes in Silicon Valley to open the fall television viewing season!
In this latest episode of "Glee," a group of Super Angel Cheerios–who apparently like a good bottle of Kistler or two–plot to stop the entrepreneur kids from getting to the valuations they've been working so hard to inflate.
Dave "Sue Sylvester" McClure uses his bullhorn blog to call foul about a not-naming-names-but-still-really-mad-as-hell story of collusion by that creepy kid from the school newspaper who wants to blackmail Rachel into a date.
Well, that got the gleek club's teacher, Mr. Ron Conway, mighty irked, and so he wrote an email–which was somehow, in some way "leaked"–to express his various, sundry and decidedly complex feelings.
Thus, the need for a thorough decoding:
Ron wrote: Subject: Super Angels Gathering
Translation: I myself am a Super Duper Angel and therefore am not at all hurt that I was not invited to the fancy wine restaurant called Bin 38, which I would so enjoy.
Not. At. All.
Sigh. I love a good Kistler chard.
Was Sacca there?
Ron wrote: I want to share my views on the two gatherings you had in June and this week and what they represent in my opinion.
So that I would not be influenced by any outside inputs I am writing this without sharing my thoughts with anyone including David Lee and the other SV Angel Partners.
I want to clarify once and for all my total disagreement with your values and motives for being investors.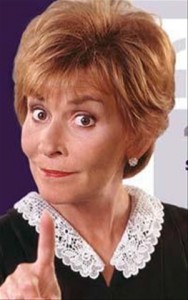 Translation: I was not there, but this does not stop me from completely going all Judge Judy–indicting, trying and convicting you, and despite the fact that one of my own partners was at the faux-controversial dinner.
I do this with a sense of righteous indignation that shall endear me to the entrepreneurs I would so dearly love to steal right out from under you.
Ron wrote: I have stated consistently for year that I invest because I love helping entrepenuers and watching them learn and succeed.
I am honored that entrepenuers share their crystal ball views of the future of innovation and technology with us and respect the guts it takes to start a company.
Translation: Here's where I spread it on thick.
Just a small town geek
Livin' in a lonely world
He took the midnight train goin' anywhere (actually Palo Alto).
Just a city boy
Born and raised in a very nice crib in San Francisco.
He took the midnight limo goin' anywhere (except not to Bin 38).
Some Supers in a smoky room
A smell of wine and cheap perfume
For a smile they can collude all night
It goes on and on and on and on.
Ron wrote: At SV Angel we try to reciprocate by adding value any way we can.
I think that actions speak louder than words and SV Angel has always been a friend of entrepenuers and we focus our business to help entrepenuers achieve success.
Translation: I might not be able to spell "entrepreneur," and perhaps an SV Angel partner was present and accounted for at this dinner, but please instead focus on my jazz hands that are telling a tale of entrepreneurial adoration.
Ron wrote: The world of startups would be a better place if you spent less time complaining about deal structures, terms, vc's, and valuations etc and the cars you drive, and just helped entrepenuers build their companies.
Translation: I have never complained about such things, except in the video below, in which I do.
Particularly about Porches. Um, Porsches.
Ron wrote: The Free Enterprise system is very efficient…why not let the marketplace demands decide on these issues, its worked for many many years. These startups are binary…they succeed or fail so why waste time on deal structures, terms, vc's, and valuations etc and just help entrepenuers build their companies.
Translation: From this moment out, there will be no more convoluted term sheets from me. I am just going to leave a barrel full of money by the door of my "entrepeneur"-paid-for-it apartment and any nerd can grab a handful or two.
Ron wrote: In my opinion your motives are driven by self serving factors around ego satisfaction and "making a buck".
My motives and values are very different.
Translation: To paraphrase a line from the upcoming movie about Facebook–which is one of my investments, in case I did not mention it:
Making a buck isn't cool. You know what's cool? Making a billion bucks!
Ron wrote: They are so different I want to be up front with you and recognize this and disengage from any involvement with you. I will not be a hypocrite.
I am tired of seeing you and engaging in idle chit chat and not sharing my true feelings.
I think you have a different value set and lets agree to disagree and not have to even engage in any idle chit chat or discussion of any sort….ever.
Translation: Super Duper Angels are from Venus, Super Angels are from Mars.
Ron wrote: Furhermore, I regret David Lee was involved in the gatherings. I am sure he does too.
We talked about the first dinner and I encouraged him to write the email above and withdraw…I know he was uncomfortable with both gatherings…where no one was there to speak up for the interests of the entrepenuers.
Translation: David Lee, my partner, was very uncomfortable at the gathering. Which is why he went twice.
Two times, to make sure he was completely regretful.
One. Then two. He felt just awful.
To be fair, the wine was superb.
Ron wrote: By now you are rolling your eyes and saying "Ron's a ___________(fill in the blank)…and who is he to pass judgement…..
We are all entitled to our opinions.

'
Translation: How about this fill-in-the-blank: Ron's a little old to be throwing mud pies at the other investors in a digital sandbox.
We are all entitled to our opinions.
Ron wrote: I am just being honest and transparent….the way most of the entrepenuers I invest are…
I wish the Angel community could have the same integrity and values of the entrepenuer community, but unfortunately I now believe that is hopeless and your actions prove that.
What do you think the entrepenuers you have funded are thinking right now.
Translation: Does this sound like pandering to the cheap seats, while also engaging in some not-so-subtle self-aggrandizement? Perish the thought!
But here's what I hope they are thinking–let's all dump the Super Angels and go back to Silicon Valley's original Sugar Daddy Ron.
Ron wrote: This is despicable and embarrassing for the tech community in my opinion.
Can you learn from this ?
Translation: Oh, dear–here's the part where Mr. Schuester sums up what all the kids learned this week, perhaps via a poignant song. I hope it's not from "Cats."
Ron wrote: Please keep this confidential even though I know that will be hard since two of you let your egos take over and show Arrington how important you are by telling him you were headed to a "secret" angel gathering.
Translation: Yes, don't leak this by any means. Not by email, which works perfectly if you use your personal Gmail account.
I also have no idea how every investment strategy deck I do somehow reaches TechCrunch in its entirety.
It's a mystery wrapped in an enigma wrapped in a Gmail–you know, in case you did not know, I was a very early investor in Google (GOOG).
Ron wrote: Dave McCLure…pls try not to blog about this and cause silicon valley more embarrassment with your unprofessional classless writings
Translation: Yes, Dave, leave the unprofessional classless writings to the professionals. Like BoomTown!
Ron wrote: Note: I did not include those who were at the gatherings who I don't know well enough to form an opinion around their motives or values.
Translation: You're next if you keep messing with my Super Duper Angel investing business.
Don't stop believin' that.
And here's Ron unplugged: