Microsoft Bing's Yusuf Mehdi Talks About Facebook Search Lovefest!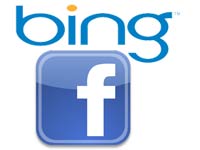 After yesterday's press event at which Facebook and Microsoft declared their never-ending love for each other via a search integration into the Bing service of a lot of data from the powerful social networking behemoth, I sat down to talk about it with Yusuf Mehdi, a longtime exec at the software giant.
It is the first sign of a major deployment of a deal announced last year between Microsoft (MSFT) and Facebook.
The theme, according to Mehdi, who demoed the new social features and quoted the Beatles, was search with "a little help from your friends."
After execs from both companies spent a lot of time air-kissing each other over the whole thing and Facebook CEO Mark Zuckerberg happily threw some raspberries at search giant Google (GOOG), BoomTown sat down with Mehdi for an interview.
Here's the video of that, done in an odd fake living room–no idea on the many old radios–at Microsoft's Silicon Valley HQ: