Adding Insult to Injury: Yahoo Is Prepping Layoffs, but Limited to Product Group and More Like 10 Percent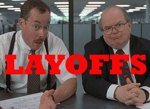 Yahoo is indeed preparing to lay off employees, in a reduction in force that will be done in December.
But the layoffs, first reported in TechCrunch at 20 percent, will be closer to 10 percent and be almost completely centered on the product organization under Chief Product Officer Blake Irving, said sources close to the situation.
That would mean layoffs of about 650, since that part of Yahoo has about 6,500 employees.
Yahoo, in fact, just put out a statement saying the 20 percent figure was "inaccurate."
Said the company in a statement: "Yahoo! is always evaluating expenses to align with the company's financial goals. However, a 20% reduction in Yahoo's workforce across the board is misleading and inaccurate."
Well, kind of, because it is a big layoff nonetheless.
In addition, said sources, the layoffs might result in the outsourcing of some functions at the company.
Even at a lower figure, the move will surely be yet another blow to morale at the much-buffeted Silicon Valley Internet giant.
Just this week, for example, Google gave each of its employees a 10 percent pay raise and $1,000. Facebook, similarly, is showering benefits on its fast-growing pool of workers.
Along with a spate of top-level executive departures, Yahoo is under scrutiny by Wall Street, as well as the subject of much takeover speculation.
This has put Yahoo CEO Carol Bartz under even more pressure to show results after almost two years as top manager.
Known as an exec who knows how to cut costs, she has yet to prove she can grow the Yahoo business with new innovations.
Yahoo has just over 14,000 employees. It has undergone many layoffs and restructurings, but only once in a major one under Bartz.