Dive Tech–OnLive Now More Than Just a Game (Video)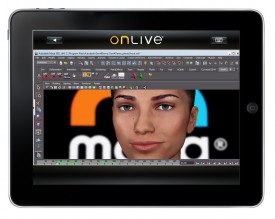 Way back in June, OnLive demoed its cloud-based mini gaming console in front of a packed house at D8. Today, it is attempting to level-up, announcing a new extension of the OnLive cloud service platform–one that turns just about any device into a console for their cloud system.
Via OnLive, you will be able to virtually run Web sites (and full applications) that far exceed the computing limits of the connected device–think generating 3-D models in Maya on an iPad.
Company representatives will also be demoing use of OnLive on the Samsung Galaxy Tab and showcasing its effort to make online gaming into a spectator sport–by letting you watch things others are doing on OnLive.
Spooky.
9:50 am: OnLive takes the stage.
9:50 am: OnLive CEO Steve Perlman says today OnLive is becoming about more than gaming.
He is showcasing how you can run Windows 7 on his iPad, via OnLive's cloud connection.
9:52 am: Perlman opens Internet Explorer, to a Flash-heavy Mercedes site, on the iPad.
Walt checks it: "So, you are running Windows, and IE, and Flash on the iPad, none of which run natively."
9:54 am: Perlman, addressing bandwidth, says that the applications are running on a datacenter about 50 miles from San Francisco, but that he expects you could run the same application several thousand miles away.
9:55 am: Walt wonders if Steve Jobs is loving this right now.
9:55 am: Now he brings up a Samsung Galaxy Tab and shows Quicktime video running on the Android device.
9:56 am: Perlman says none of the applications are running natively. He says all that's happening is a tiny app is running to decompress video.
9:57 am: Perlman is now showing Maya, a $6,000 high performance 3-D editing tool–on the iPad.
9:58 am: Now he is editing a 3-D character, in Maya, on the iPad, while the Galaxy Tab is "spectating" the editing. He mentions the possibilities for collaboration.
Walt asks if the "spectator" can participate in editing.
Not on this beta version, says Perlman.
10:00 am: Perlman claims that OnLive's collective cloud network is the largest supercomputer in the world.
10:01 am: Walt asks if this is another dagger in the heart of the laptop.
Perlman says that may be the case. He says in the future you'll need even less computing power than today.
10:03 am: Perlman demonstrates the coup de grace–an iPad with Maya, the Android phone spectating, and the Galaxy Tab running Maya with another iPad spectating.
His point is flexibility and ubiquity.
10:04 am: Walt asks about movies.
Perlman says yes, but OnLive can go much further.
He says OnLive can support the interactivity and extra features like those on a home Blu-ray player.
10:05 am: Walt asks about the business model. Perlman says they make money when they demo another company's game, through ads, etc.
Perlman says he would rather everyone be able to use this tool than focus on turning a profit.
10:07 am: Perlman closes with an answer to Walt's question.
"Its not us OR Netflix. Its us AND netflix."
Perlman, Walt and Kara leave the stage. Next up is Spotify.
Photos from Dive Into Mobile