You Watch a Lot of Web Video. You Watch Way More TV.
It's possible that you, AllThingsD reader, are a cord-cutter or that you know a cord-cutter. Or that you'd like to cut the cord if you could.
But odds are much better that you:
Watch a lot of Web video, and
Watch a ton of TV.*
We've seen similar stats before, but always good to see a reminder. Today's comes from Nielsen, which has a very cool looking "State of the Media 2011" report full of cool infographics.
This one, alas, is a tad more vertical than I'd like, but I'm a beggar. So here you go. Note that even you youngsters that watch the most video still put in more than 20x time watching TV (that's real TV, not Netflix on your flatscreen, etc):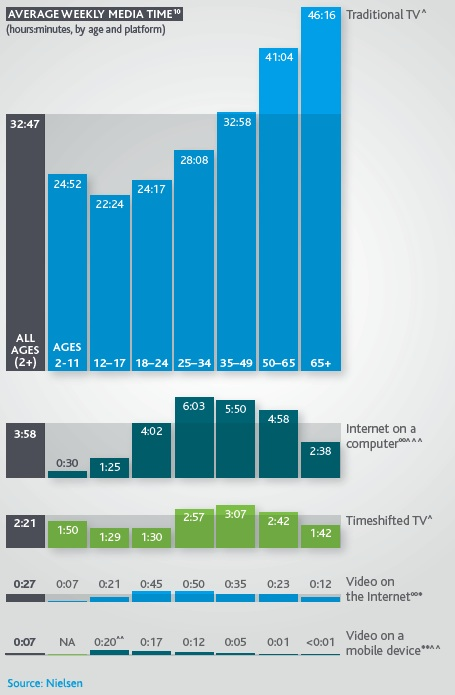 This data comes from Q2 of last year, and it's self-reported, so it's possible that it will change dramatically over time, and/or that it's under- or over-counting one or more datapoints. [UPDATE: My mistake. Nielsen tells me the viewing and Internet data comes from their automated meters which track device behavior, not from self-reported surveys.]
But particularly because we're about to enter a phase where we hear many loud pronouncements about The Future Of TV (more on that soon), keep in mind that The Present Of TV seems to work for lots of people. For some it's the equivalent of a full-time job.
*And yes, I realize that some of you could be watching a ton of TV without paying for cable, because you're getting free HD signals over the air. But my hunch is that's a very small group for now.