Microsoft Phoning In Its Last CES Keynote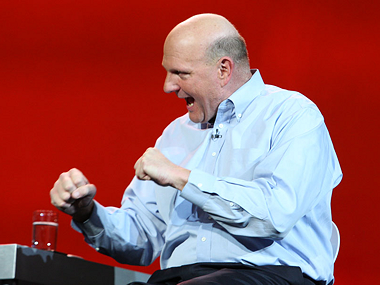 Well, maybe it is a good thing that Microsoft plans to make this Consumer Electronics Show keynote its last.
The company isn't making much news during Steve Ballmer's speech, which is due to start any minute now.
Arguably the biggest news is already out — the company's phone announcements with Nokia and AT&T.
Ballmer is also expected to toss out some numbers showing how well it is doing with Xbox console and the Kinect add-on that allows one to play games without a controller.
Beyond that, Microsoft will show a demo of Windows 8, but there probably won't be much new from what the company showed developers last fall at its Build conference. A beta version of the operating system is due next month; though, again, Microsoft had already said that.
But I can't help but think that this need not have been Microsoft's Vegas fate.
I'm not saying that Steve Ballmer could have been the next Rita Rudner or Wayne Newton. But, surely there is enough interesting stuff things on in Redmond to put on one good show a year.
They could pull some of the amazing stuff cooking in their labs, preview some games and show a bit of where Windows is headed.
But, alas, they haven't done that for many years. Bill Gates used to do that. Sure, not everything he predicted was a hit (think stylus-based tablets, smart watches and Internet appliances). But at least there was something new.
That said, Microsoft is promising that this year's show should at least be entertaining. If you want to follow along, check out AllThingsD's innovative live blog, which combines the Ballmer-note with the ongoing BCS championship football game. Hopefully, at least one will keep you entertained. (Or at least that we do, even if the on-field heroics are less than memorable.)
MORE CES NEWS: