iPhone Shipments to Enterprise Will Surpass Those of BlackBerry by the End of the Year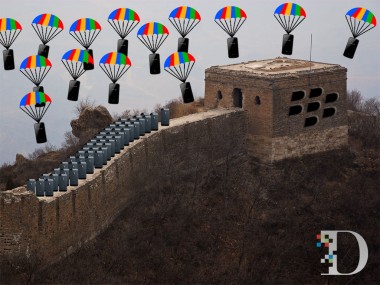 Research In Motion ceded the consumer smartphone market to Apple and Google years ago, and soon it will cede the business market, as well. New research from IDC indicates that enterprise — perhaps the last stronghold of RIM's once-great BlackBerry empire — is increasingly switching to iPhone and Android, and suggests that the BlackBerry's days as the business world's smartphone of choice may soon be over.
"Apple iOS devices are being brought into the enterprise in droves, both by corporate and by employee purchase," IDC explained. "In fact, [we believe] that by the end of 2012, iOS will be the number 1 corporate-liable operating system (OS) device by volumes shipped." And the top employee-liable mobile-device OS? Android. ("Corporate-liable" is research-house jargon for "company-owned"; "employee-liable" means "employee-owned.")
To be clear: The BlackBerry's installed base in enterprise remains far larger than those of its rivals, but the iPhone will surpass the BlackBerry by volume of devices shipped to enterprise by year's end.
Ugly news for RIM. But with the consumerization of IT in full swing and more companies offering "Bring Your Own Device" (BYOD) plans to their employees, it was inevitable.
By losing the smartphone battle in the consumer market, RIM has lost its footing in the enterprise market it long dominated. Now it must fight for relevance in a broader market that's essentially an estuary of the two. And that's a tough place to be for a company that's transitioning to a competitive mobile OS years later than it should have.
"While corporate customers will continue to offer Blackberry as a corporate-liable device, they are also now much more open to offering iOS as well, and giving end users a choice of devices," IDC Mobile Enterprise Program Manager Stacy Crook told AllThingsD. "From a BYOD standpoint, the BlackBerrys will also continue to easily make the approved device list, but again, most companies with a BYOD strategy will allow for iOS and, increasingly, Android is starting to make more of those lists, as well. In either of these scenarios, it boils down to end-user choice, so the end users have to want to choose the BlackBerry device over the others."
And these days, fewer and fewer are making that choice. Which is why strong adoption of BlackBerry 10 is crucial to RIM's longevity. The "You Will Use a BlackBerry and That's an Order" market is disappearing, whittled down by corporations' widening embrace of BYOD. RIM's battle for the enterprise space is increasingly becoming the same one it already lost in the consumer space. And it can ill afford to lose it a second time.
BlackBerry 10 really needs to be "a quantum leap over anything that's out there," to quote former RIM co-CEO Jim Balsillie.
According to RIM, it will be. And the company, for its part, says it has no intention of forfeiting the enterprise market to anyone.
"BlackBerry continues to be the best mobile platform for business, providing a complete enterprise mobility solution, including smartphones and tablets managed by a scalable, reliable and highly secure software platform," the company said in a statement given to AllThingsD. "Our infrastructure is trusted by some of the most security conscious organisations in the U.S. and over 90 percent of Fortune 500 companies. We've been meeting with many of our top enterprise customers and they are excited about BlackBerry 10 and its potential."