At This Year's E3, Smaller Companies Get a Chance to Stand Out
This year's Electronic Entertainment Expo will undoubtedly deliver all of the hallmarks of a big gaming conference: Flashing lights, thumping music, over-the-top presentations, hordes of fanboys and clusters of scantily dressed women hawking videogame software titles.
But some of the more interesting products and developments of the show this year might come from companies that can't afford huge booths. This year, the big players are surrounded (though not especially threatened) by smaller gaming companies that cater to a broadening definition of "gamer."
On the hardware side, the "big three" console makers have already unveiled or released their next-generation consoles: Sony's PlayStation 4, Microsoft's Xbox One and Nintendo's Wii U, which was released last November. So, lesser-known hardware makers, some of whom have come this far on the backs of ground-up crowdfunding campaigns, will hope to grab a sliver of the spotlight.
Two fledgling hardware companies that will be at E3 and have garnered attention in recent months are Ouya and Oculus VR, maker of the Oculus Rift virtual-reality gaming headset. (For an in-depth Q&A with Oculus, check out this story from last week.)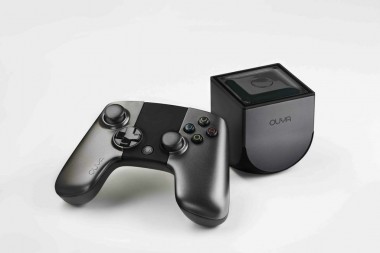 Ouya, led by gaming industry vet Julie Urhman, first came into existence last summer as a Kickstarter project. The company ultimately raised more than $8.5 million dollars to fund its production of a $99 palm-sized video console that runs Google's open Android operating system.
Also on the radar this week is London-based PlayJam, which has spent the past 12 years building gaming platforms for smart TVs. At E3, the company will be demoing its $80 GameStick, a thumb-drive-like device launching next month that plugs directly into the TV and connects wirelessly to a retro handheld controller.
Yet another Android-based device, called the Unu, will be shown off at E3 with the hope of appealing to both the gamer and the media consumer. Unu looks and feels like a tablet — and can be used as one — but plugs into a TV-connected dock to run the same Google Play games and media apps on the TV as it does on the tablet. A "media edition" of the Unu will ship this summer for $199, while a "gamer" version, which includes a game controller, will sell for $249.
"Nintendo did very well capturing the whole family segment with the Wii," said Nick Repenning, vice president of business development for Unu's maker Snakebyte, of the company's positioning. "But Wii U hasn't picked up where Wii left off, and that's where we get in. We're tailoring to the same consumer. But where a game for the Wii is $40 or more, our games are between $1 and $10."
Repenning's comment gets to the crux of what is so disruptive about these smaller, scrappy companies homing in on E3: Price. For both developers and consumers, making and playing games is potentially more affordable when there are more avenues available than just the walled gardens of Microsoft, Sony and Nintendo.
"From a developer perspective, you used to have to develop for the 'big three,' spend thousands on a dev kit and sign your life away," said Anthony Johnson, PlayJam's chief marketing officer. "There are seriously talented game makers out there in the indie community who now have easier access to gamers with platforms like ours."
But that access is still a long way off from being "easy" at E3, according to Ian Kinsey, the director of Semiformal Studios. Kinsey and his company are trying to disrupt the normal show floor this year with a project called Indies Crash E3. He said the cost of attending and nabbing a booth is prohibitive.
"They're all about the big guys," Kinsey said of the Entertainment Software Association, which produces E3. Groups of indie developers currently cannot share booths (which start at $30,000 for 600 square feet on the main floor) to demo games without paying an additional $5,000 per head from other companies.
So Indies Crash E3 held an online vote to bring 10 indie companies to E3. But to get around the $5,000 fees, they're only showing off their games in private demos for journalists — not to the normal attendees passing by, as they might at a more indie-friendly conference like GDC or the PAX conference series.
In recent years the traditional gaming industry has seen declines in sales due to a variety of factors. NPD data for the month of April showed that total gaming retail sales slid by 25 percent year over year to $495.2 million. Hardware sales fell by 42 percent in the same time frame to $109.5 million.
Big-name software titles and game franchises have remained a bright spot, indicating that many gamers are still willing to spend big bucks on key titles. But at the same time, mobile gaming is on the rise, and the consumers NPD calls "free and mobile gamers" are a rapidly growing segment of the industry.
To be sure, the big console makers and game publishers will still have new tricks and titles to unveil. Many people will be looking for announcements or clues on the launch date and retail price of the Xbox One. The same questions linger around Sony's PlayStation 4, although the two companies are taking decidedly different approaches to the market: The Xbox One is aimed at controlling all the media available in the living room, while Sony has doubled down on gaming as its primary focus.
The buzzword to watch across all of these devices and games is "cross-platform." It's easier to make the leap with Android-powered consoles like the Ouya, Gamestick and Unu, but companies that want to reach as many gamers as possible are angling for games that can be played anytime, anywhere. The race is on in a fragmented market to offer a high-quality experience no matter how you get your game on.
RELATED POSTS: